---
I have spend my last semester of MEng in Electromechanical engineering at National University of Singapore. I will share some of my experiences with you to offer insight into what it's like to study engineering at the ranked 1 University at the other side of the globe.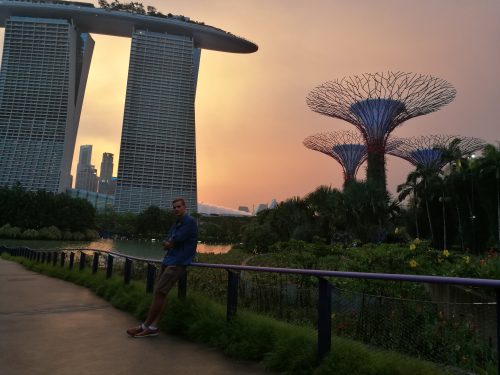 Singapore is a city, a country, and an island. Culturally, Singapore boasts a unique blend of Chinese, Indian, and Malay influences. The national language is English, although it might be more accurate to say it is Singlish, an interesting local slang. (For beginners, just add "la" at the end of a few sentences, and you'll get by just fine.) Singapore as an exchange destination is probably not the first idea that comes to mind but you'd be surprised how incredible it can be.
University
At NUS I took 4 modules: neural networks, new product development, phenomenas in energy transportation and automation in manufacturing. You can find schedule of the classes at the beginning of semester and check if there is no clashes. I managed to squeeze all of my lectures in  3 constitutive days which gave me more time for exploring South-East Asia.
Lectures were usually 3 hours long with one break. In 2 out of 4 modules I was the only European in the class. I attended lectures alongside Singaporean undergraduate students, international exchange students, and graduate students.
At NUS, professors evaluate student performance throughout the duration of each module with various graded research papers, group projects, or simulations. Even attendance and classroom participation can contribute to some percentage of a student's overall grade.
Learning spaces were incredible. I was often stroling around the campus to find a sweet spot at the roof under the tree. But my favourite was at the infinity pool: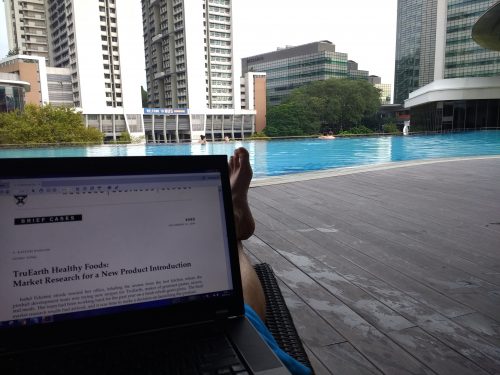 University posses great sport facilities. There was about 4 different gyms, two 50m swimming pools, full athletic stadium, climbing wall and many many more. I did not have to pay extra to get acces to any of these.
I was living in one of the University halls – Ridge View Residential College (RVRC). After spending semester there I must addmit that out of all halls I visited I would choose this one again. I had a rainforest just outside of my window, canteen 1 minute away but the biggest impression that I remember was the atmosphere. People were very supportive, there was many bonding activities and you could feel like a member of a big student family.
Being in Singapore and studying at NUS creates lots of opportunities: involving in academic and social projects, taking part in competitions, creating close bonds with locals, travelling, taking part in social events or being an active member of societies. These are all great activities but day have only 24 hours and at some point you have to sleep and attend lectures. My priorities were to experience and understend the south-east Asia culture, travel as much as possible and obiously improve my engineering skills and knowledge at most prestigious University in Asia.
Semesters overlap
For some people, being 10000km from home in the new country, without any friends or family can be stressful situatuion. Not for me. I get used to diving into new environments and feeling comfortable there. The most frustrating for me was the overlap of the UK and Singapore semesters. I arrived to Singapore on 10th of January, while semester in Southampton ends in February. I had to travel to Malaysian campus to write my exam there and work on GDP while participating in classes and other activities at NUS.
Travelling
From January to May I crossed Singaporian border about 26 times. I visited Vietnam, Indonesia, Malaysia, Thailand, Sri Lanka and i can honestly say that saw most of the places in Singapore. I placed few pictures to encourage you to travelling while being on the exchange. There is so many incredible places and flight tickets are very cheap even without booking in advance. For example I paid 35 pounds for a return ticket to Borneo.