---
My semester in Hong Kong has sadly come to an end. Reflecting on my time in Hong Kong, CUHK has been a great host institution with nicely organised trips and activities which mixes both exchange and local students. They also had different projects which gave us the opportunity to contribute to the Hong Kong society, the one I participated in was the Rural School Project where I taught English to a group of primary students as a weekly volunteer.
As the exam season approached, campus was mostly quiet with the library always packed. Interestingly, the library has electronic shelves which moves depending on which aisle you wanted to walk through. Overall, there was a supportive environment and good communication between the professors and students.
Here are a few places we went to before the semester ended:
Macau
Macau aka the Las Vegas of Asia is a one hour ferry ride away from Hong Kong which is best known for their casinos and Portuguese egg tarts. Taipa is known for its impressive skyline of hotels linked by with mega-sized shopping malls and casinos which are open 24 hours. The rainbow Eiffel Tower is also a very popular tourist picture spot.
Across the bridge from Taipa is Coloane where the famous Ruins of St. Paul's is found. This fine structure are the remains of the Catholic church which was destroyed in 1835. The facade symbolises Macau's history.
Part of the Taipa skyline

Ruins of St. Paul's
Rugby Sevens
Another very exciting event we went to was the Hong Kong Rugby Sevens. We went to the last day of the event to watch the finals (the actual event covered three days). Once we got to the stadium, we mingled our way to the South Stand where the madness occurs, people all dressed up in crazy outfits – from Mr Bean and the Teletubbies to the Baywatch crew! Apart from the rugby, there were live tribute acts from Queen and Oasis and acrobatic performances. The final match was between Fiji and France, with Fiji taking champion, and to top it all off, there was a fireworks show which was a great finale!
Half Moon Bay, Sai Kung
We decided to go to Sai Kung to celebrate the end of our exams! Sai Kung is the perfect escape from the busy city streets. Once we arrived Sai Kung pier, we took a short kaito ride to Sharp Island, it is known for its GEO park and hiking trails. One of the beaches was Half Moon Bay, although small, it is crescent-shaped like the moon and has beautiful clear water. We were lucky it was a very sunny day as it had been raining for the past week… it was the perfect day to soak up some sun. After a long day at the beach, we managed to catch the sunset on the kaito during the ride back to the city. We ended the day with some noodles at a popular local fast food chainstore.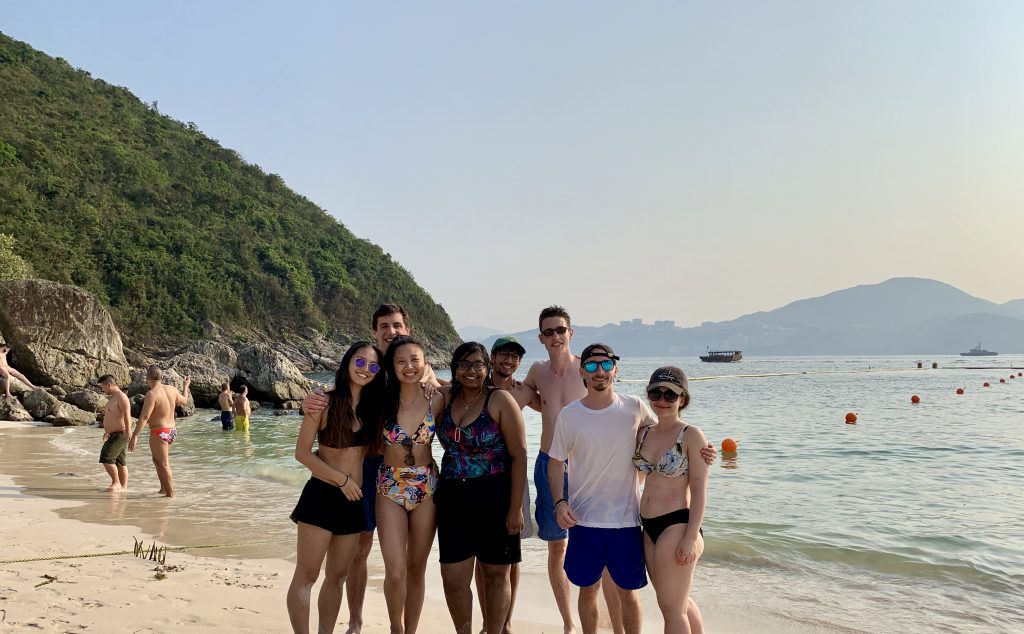 CUHK Farewell Meal
As all good things come to an end, the CUHK farewell meal was a lovely gathering to celebrate the end of this adventurous semester. The Director of IASP (International Asian Studies Programme) shared their success of their study abroad programme since it first started in 1965, he stressed upon the importance of achieving the full university experience outside of academics by immersing in other cultures while enriching your knowledge in your field of interest. As we had students from many different countries, he felt our group really encapsulated the community spirit of the programme.
A slideshow of pictures of our time abroad was displayed on screen while we enjoyed the buffet. There were also games and prizes where each table was awarded a bottle of champagne – it was a delightful evening! After our group photo was taken, the evening came to an end. People were documenting this whole journey through videos and blogs which really showed what an unforgettable time we had spent together; although it was a short time abroad, we definitely had an unforgettable time together.
What did you learn most from studying abroad?
Studying abroad can be a scary thought, but I can assure you it is a very rewarding journey after it all. Although there were many factors to consider and worries that popped up throughout the applying process, looking back I'm so glad I did it and probably would have regretted more if I didn't apply. As someone who is cautious but enthusiastic about travelling and meeting friends from around the world, it allowed me to share the same field of interest with other people and to grow into a more confident and open-minded person.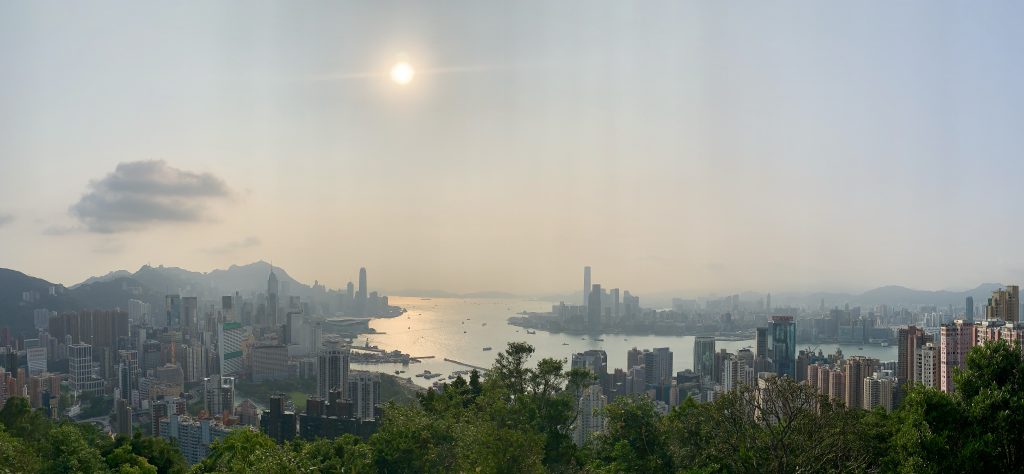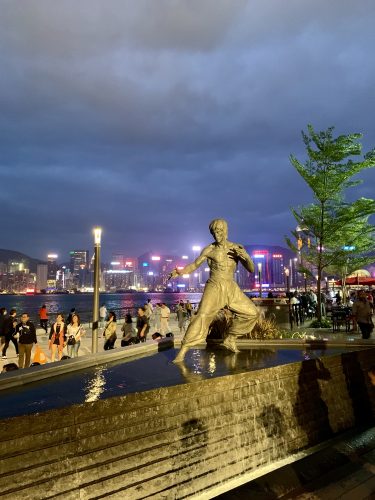 This concludes my time here at CUHK, it has been a very memorable experience and possibly the most valuable one to have done at university. Thank you to Southampton for this amazing opportunity and I am looking forward to applying the skills I have learnt into my final year of study!