---
I started this blog with just over 48 hours left in Ottawa. Having officially finished the 'studying' part of my year abroad, I had emptied my room and desperately tried to squeeze everything I could into an overflowing suitcase. I am finishing this back in the UK after a month travelling the West Coast of Canada and North America.
The second semester of my time at uOttawa went incredibly quickly but also involved some of the best experiences. Ottawa truly lived up to its reputation as the coldest capital in the world with Uni closing for 3 days due to a snowstorm. However, the weather also meant I got to take full advantage of some great winter activities. This included snow tubing (on the coldest day of the year at -33 celsius), snowshoeing, husky sledging and attending Igloofest, the coldest festival in the world! Would this even be an Ottawa blog post if I didn't mention being able to skate on the world's largest natural ice rink; having practiced the basics during first semester, we were all ready to take on the bumpy Rideau Canal when it froze over in January. I was also lucky enough to go to an Ottawa Senators ice hockey game.
Snow Tubing on the coldest day of the year

Skating on the Rideau Canal – the world's longest natural rink!
As the political capital of Canada, Ottawa's parliament building is a major tourist attraction. Some of my friends and I were fortunate enough to go on one of the last ever tours of the Central Block and Peace Tower which are now closed to the public for the next 10 years due to refurbishment!
Academically, this semester was slightly more challenging than last, but also allowed me to partake in a UN internship module that involved researching into the Charter of the International Organisation and resulted in my piece being published on the website of the UN Repertory. I also got to continue honing my advocacy skills in my Appellate Advocacy module and saw a case in the Canadian Supreme Court. 
Writing for the UN under the guidance of Professor Saeid Mirzaei Yengejeh

Mooting in my Appellate Advocacy Class
Something I will really miss about Ottawa is how well placed and connected it was in terms of travelling. This meant I got to see a lot of Canada and North America. Highlights from this semester included a weekend trip to Algonquin Park, Montreal, Toronto and a days skiing in Gatineau. My sister came out to visit for reading week and spent some time in Ottawa before we headed to Universal Studios and the Wizarding World of Harry Potter in Orlando as a treat for my 21st birthday; the sunshine state was definitely a welcome change to the snow in Ottawa which was still going in April!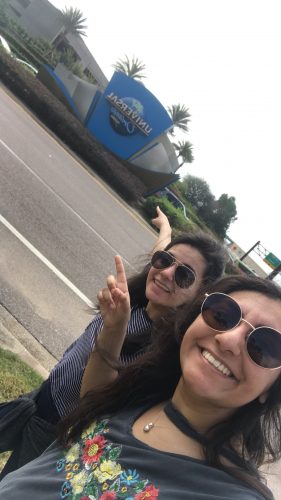 The snow meant that we all felt a bit less guilty about locking ourselves away for revision during exams but thankfully the sun made one final reappearance before we all left for our summer travels.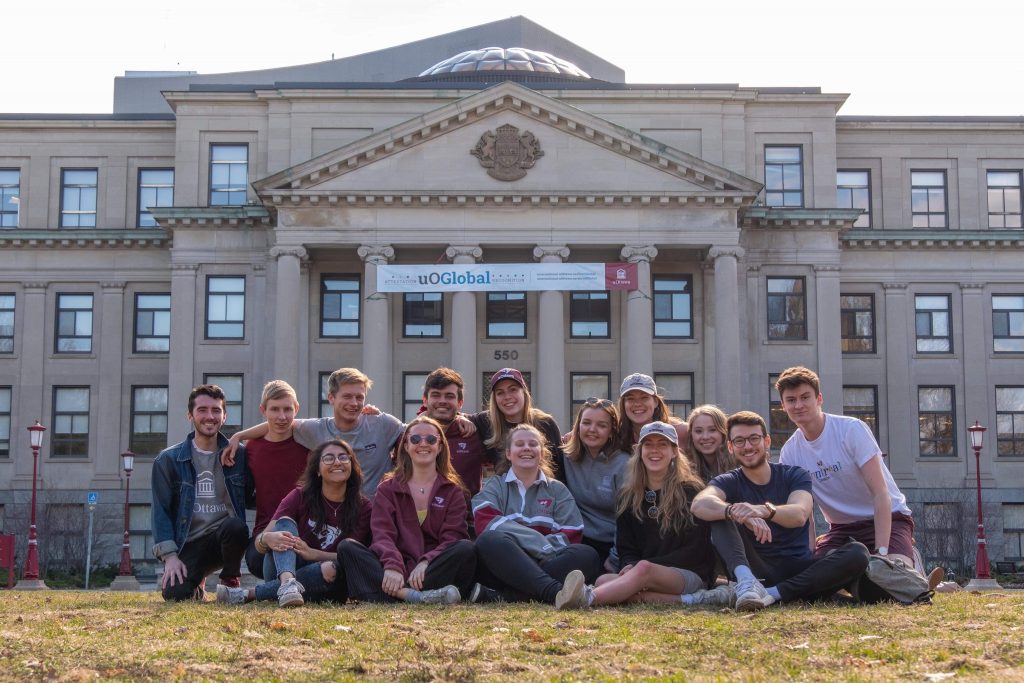 A group of us had planned a final road trip down the West Coast of Canada and North America beginning in Calgary and ending in Los Angeles to celebrate the end of our year. The trip began with the slight hiccup of a snowstorm that meant the majority of my friends landed in Calgary just after midnight, having been redirected to Edmonton.
Nevertheless, the adventures began the next day as we headed to Banff where we got to see some amazing lakes and scenery. After a final few days in the snow and spending the night in Calgary airport, we flew to Vancouver, possibly my favourite city we visited on this trip. The third day we were there, we rented bikes and ended up cycling 30km around the city in the sunshine. We spent our last day in Canada on Victoria, one of Vancouver's islands, with a beautiful final Canadian sunset before getting the coach to Seattle to start the American part of our travels.
Last Canadian Sunset

Lake Louise
The warm weather continued in Seattle where we got to see the world famous Space Needle and Chewing Gum Wall as well as indulge our inner basic white girl with a frappé from the original Starbucks. Some of us also went on an evening underground tour of the city which was definitely eye opening…
Our next stop was Portland. We quickly found that the best way to get around the city was to rent electric scooters which were great fun as long as you made sure to stick to normal roads and not join the highway! Portland is also home to the world's largest bookstore which did not disappoint. Redwood National Park was our next port of call where we went on some great trails seeing some of the oldest and tallest trees in the world.
Redwood National Park
We spent the next couple of nights in the small coastal towns of Eugene and Eureka as we made our way down Route 101 towards San Francisco. The weather in San Fran was uncommonly rainy but we had one day of weather that was perfect for a skydive with views of the Golden Gate Bridge which 4 of us had booked to do; there's nothing quite like chucking yourself out of a plane at 10,000 ft! With another thing ticked off the bucket list we spent the next 3 nights in Yosemite National Park where we saw the famous landscape of El Capitan from Tunnel View.
Tunnel View – Yosemite

Skydiving in San Fran
Before our final stop in LA, we spent some time in the seaside town of Carmel and drove down highway 1, seeing Big Sur and more of the beautiful Californian coastline. On our first day in LA we went to see the Hollywood sign and trekked up the mountain to get a great view of the city. We then went on to see the Walk of Fame before looking around Rodeo Drive and the Beverly Hills area. We were in awe of the amazing realty but I guess even poor students are allowed to dream…
Hollywood Sign
We all spent my final day of travelling on Venice Beach in the sun, reflecting on our peaks and pits of the year. I could not have thought of a better way to end my experience, surrounded by some of my favourite people. After a very emotional goodbye, I began my 48 hour journey home. I had left the majority of my things in Ottawa so flew from LAX to Ottawa (with a layover in Toronto). I had just enough time in Ottawa to get one last poutine before I headed back to the airport for my final flight home.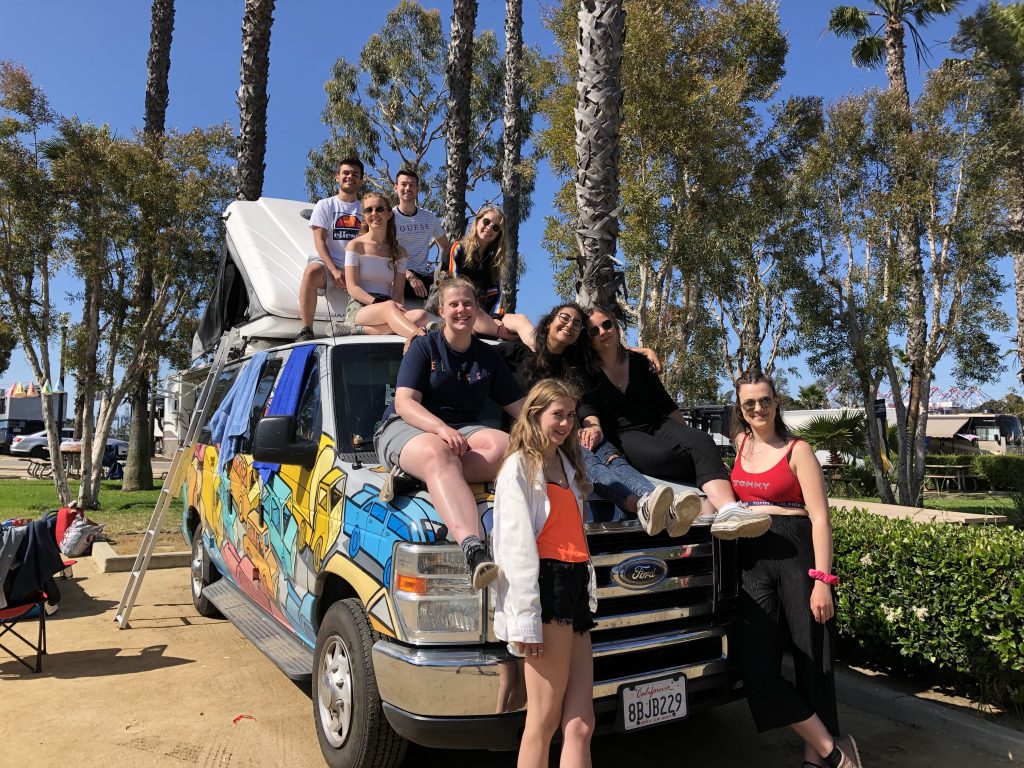 Having now had a few days back in the UK and mostly recovered from my jet lag, I've had some time to reflect on my year. I can honestly say it has been one of the best experiences and decisions I've ever made. My year abroad has taught me a lot about myself, new places, cultures and more! It's also given me friends for life who have provided me with some great memories and I could not be more thankful or have asked for better people to share this year with. 
California Dreaming – Road tripping down the West Coast of Canada and North America!