---
Just over four months ago I was packing my bags, preparing to travel to Seoul to begin my semester abroad. And I was terrified. I suffer with anxiety daily anyway, ordering a coffee can cause heart palpitations so the idea of heading to the other side of the world all by myself to live was naturally taking this anxiety to another level. So why was I doing this? Well this was an incredible opportunity. I was not going to let anxiety get in the way of no matter what.
Nevertheless, worries continues to swirl through my mind. What if I get lost? What if I miss my plane? What if I can't find my accommodation? What if…? You get the picture. The best I could do was plan everything to the smallest details, study maps, and just try to distract myself until the day finally arrived and I was saying goodbye to my mum and sister at Heathrow airport, trying not to cry, about to embark on this insane adventure. First hurdle, security; which was fine. Then passport control; also fine. Then waiting; guess what, also fine. It's funny how once you're actually travelling you realise that there really wasn't anything to worry about at all and you just feel a bit silly.
Apart from being sat next to some rather annoying fellow passengers, my flight and journey went smoothly and before I knew it I arrived at my home for the next few months, thrilled and excited about finally being in Seoul. It was so different yet oddly familiar, perhaps because of all the Korean TV shows I've watched before but I don't know.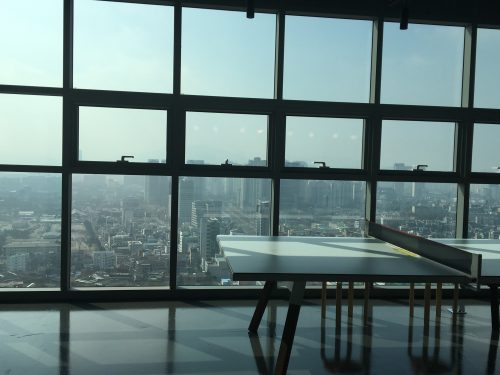 When I arrived at my room, my roommate wasn't there yet which I was delighted about because it gave me space and privacy to settle in however another wave of anxiety arose as I began to wonder what she'd be like. What if she was horrible? What if she was messy and dirty? Won't it be suffocating to share a room? I very almost asked to be moved to a single room but I'm so glad I stuck to it and waited until I met her. I could not have asked for a better roommate. We became good friends and it was so nice having someone to do stuff with and just talk to everyday so I didn't feel so homesick.
It turned out that all of my anxieties and worries were mostly unfounded. Of course, my planning helped everything run smoothly but I found everything was better than I expected.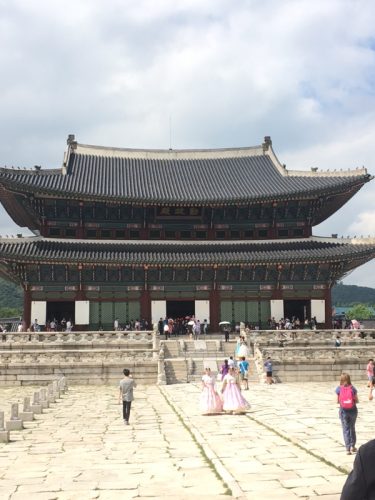 And so, began the exploration of the incredible city of Seoul. It was truly like nowhere I had ever been before. One of the first tourist sites I visited was Gyeongbokgung Palace, which was the main royal palace of the Joseon dynasty. It was so cool being there, walking through the sprawling palace grounds past the detailed ancient rooms, I felt like I was in one of the historical K-dramas or films that I'd watched.
There was always so much to do in Seoul, whether you want to chill in a cat café, or check out Seoul Fashion week; take in the beautiful cherry blossom in the spring or go cool down at the Han river in the summer. There was always something to do and in those first few weeks I was so busy I barely had time to be homesick, although I somewhere still managed it from time to time.
A Skype call home was always a great option to cure that though, although working out the time difference is tricky at first. But what was the best thing to stop you missing home to much is having some good friends.
Because I'm not the most extraverted person, it took three-four weeks for me to make friends, apart from my roommate, but a month into the semester and I was settling in nicely.
Going to university out there was also a very different experience to Southampton. I attended Dongguk University, a Buddhist university built on the side on a mountain, which resulted in a very tiring hike every morning at first before I learnt of short cuts to get up to the top. Most of my classes had a mix of Korean and foreign students and were all taught in English. At first I found it a little difficult to talk to my Korean class mates because I was nervous, being an outsider, and some of them were nervous about talking with a native English speaker. But once I got the courage, I found them all to be helpful and welcoming and I really enjoyed my classes over the semester. The teaching was interesting too, mostly I was taught by Koreans and it was fascinating studying these subjects from a different cultural and viewpoint.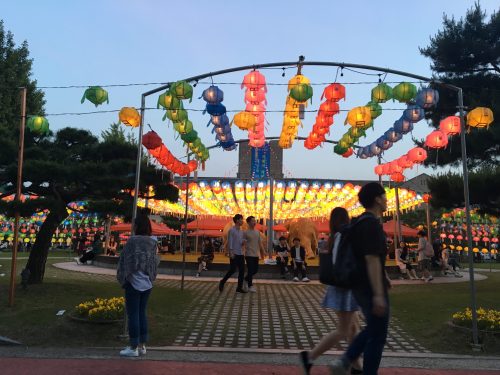 I found that the whole atmosphere at the university was so different too. No other event demonstrated this than the music festival held in May. Throughout Seoul, during the second half of the spring semester many of the universities hold music festivals for a couple of night where KPOP artists come to perform for the students, for free!
And at Dongguk we got no other that the international sensation PSY! (who sang Gangnam Style). The concert was truly great, he was fab but what really made it was the atmosphere of all the students there dancing and singing along to every word.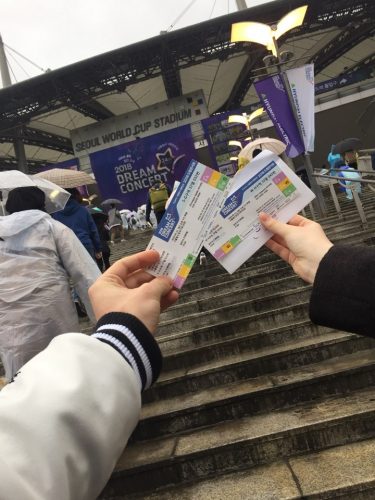 I was surprised by how much KPOP related things I managed to see whilst there. If you go to Seoul, there is just a lot available. I managed to see many of my favourite groups and of course wherever you go you hear KPOP on the street, blaring out of shops so if you're a fan of the music then it's fantastic.
Before I knew it, I was living in Seoul without giving anything a thought. I had mastered the subway, grocery shopping and speaking my very limited Korean. And it was at this point where I was really loving living in Seoul to the fullest. I had got a routine, I wasn't nervous anymore, and I had figured out what were my favourite things to do.
Probably my absolute favourite was going to Hongdae, which an area of Seoul full of energy and a youthful vibe. It has shops, cafes, restaurants and more, and is home to a lot a of busking. Walk up the street and there'll be dance troop after dance troop performing the latest KPOP dances. It's an energetic and fun place to hang out.
A place which is similar is Myeongdong. Again, this shopping district is always busy but I loved going to the hundreds of cosmetic shops there, and seeing the streets lined with food stalls.
Another thing that I loved and will miss greatly is the 노래방(noraebang). This is the karaoke rooms that you'll find all over Seoul. They're cheap and it's so much fun to belt out a song (badly) with your friend while you can hear everyone else in the other rooms doing the same.
Of course, I can't pretend that there weren't some difficulties living in Korea. For example, Korean society feels a little judgemental and there seems to be a constant pressure to present perfection which can be a little exhausting but as a foreigner I don't think I was too effected. The biggest struggle I faced was the food situation. I'm vegan and Korea is 100% not a vegan friendly country, with many people not even knowing what it means. Almost all Korean restaurants (serving Korean food) don't serve any vegan options although there are certain dishes you can ask to be altered (e.g. my favourite, bibimbap). There was actually a surprising amount of vegan/vegan friendly restaurants in Seoul, which I found using the internet, so I did get to eat out a lot and even try traditional Korean food. However, it did suck a bit when all my friends went out for barbeque and I couldn't. But it is by no means impossible to be vegan in Korea, and I managed it completely without any slip ups.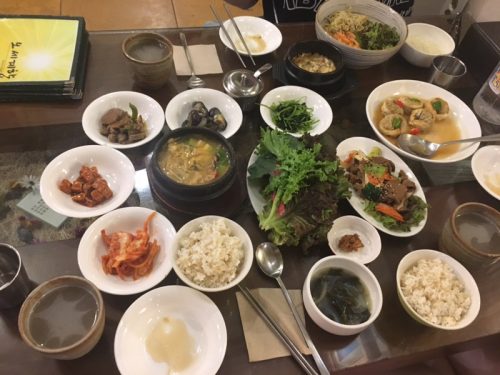 Another struggle was the weather. When I arrived in February it was very cold, and even snowed! And when it got to the end of May, it got really hot, and humid. I'm very weak when it comes to surviving extreme weather so this was a bit uncomfortable during the day but it made the weather in the evening perfect. But then in July, monsoon season started. So, torrential rain, non-stop for the whole day. Not like the light, sporadic showers we're used to in the UK, but you go out in this for five minutes, with an umbrella, and you come back soaked. Honestly, it was kind of amazing to see.
During my semester abroad, I didn't just stay in Seoul but took the opportunity to see some places nearby, both in and outside of Korea. I visited Busan, a city in the south east of the country, on the coast. Here you can see beautiful beaches and experience the local markets and dishes, often seafood related. It was nice experiencing what Korea was like outside the much more multicultural capital.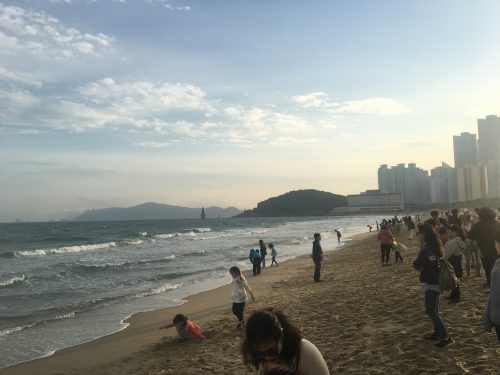 At the end of the school semester, I also took a trip to Japan. Staying in Tokyo, Nagoya and Kyoto, I was surprised by how different Japan was from Korea. There were some similarities but the whole atmosphere of the country felt so different, kind of more relaxed with much less focus on appearance. It was also so much easier being vegan in Japan, as even at the convenience stores, there being several vegan dishes available. My time in Japan was so pleasant, despite being caught up in a typhoon, rendering us hostel bound for two days. My favourite places were Hakone, a village from which you can see Mount Fuji, however, unfortunately we could not due to the cloud; Shinjuku Gyoen National Garden in Tokyo; Nagoya Caste; and Nara, which was full of little sika deer, who were so friendly and cute. Kyoto was favourite place to stay though, it had a very traditional feel to it, with many of the historical aspects of the city been preserved. Plus, some of the best vegan options.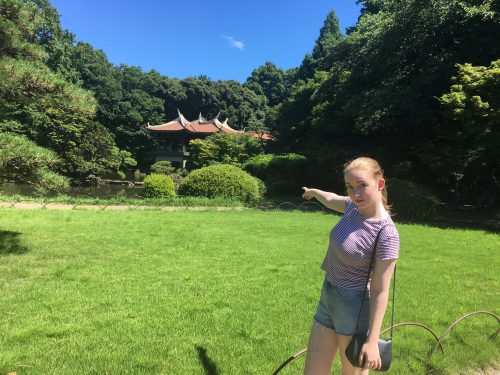 And suddenly, just like that, my semester abroad was over and it was time to go home. Honestly, by that time I felt like I was ready to go home. I was missing my family, pets and beans on toast but this didn't stop me feeling sad about leaving. By far the worst thing about leaving was saying goodbye to my friends, causing many tears to fall. Leaving Seoul was sad too though. After having created so many incredible memories there, it'll always have a very special place in my heart. And I'll miss the things like, the liveliness on the streets at night, where the shops stay open till past 10, how there's always something to do and the karaoke. Going on this study abroad was probably the best decision of my life so far. It taught me to be independent, confident and adventurous. Mostly it just proved that I am capable to cope in difficult situations, by myself, and since I went my anxiety has been significantly better. These valuable lessons, I will be able to bring forward with me into my final year of university and then further into whichever career I decide to pursue.
I really recommend that everyone with the opportunity to take a study abroad, whether it be just for a semester or a whole year, should take it, because it teaches you just invaluable skills and most of all, it's just a lot of fun.
Study Abroad, Anxiety, and South Korea