---
Greetings all, after two months of being here at the University of Western Ontario, Canada I felt it was high time to write a little about my experiences so far. In this time, I have learnt a lot about Canada and its epic winters (the snow outside my room hasn't melted since the weekend I arrived!) but despite challenging me in a number of ways, I already feel it has become a second home.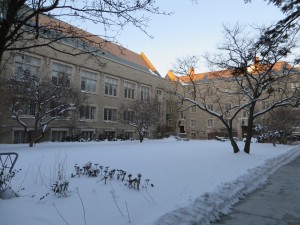 Upon arrival I was allocated a room in Medway-Sydenham hall, complete with its neogothic architecture. But despite the piles of snow, my room here is certainly warmer than my room back in Southampton as laws here dictate the room temperature mustn't fall below 18c (beats the 13c I woke up to on occasion back in December). Some things though, stay the same, usual grumbles about the quality of the cafeteria food is a recurrent theme at dinner….but here rather than halls, the term 'Rez' is more widely used, though Dezrez is pushing it a little.
Moving to London (Ontario that is) has also posed its obstacles, for whenever I am asked where I'm from back in the UK, the same repsonse of "oh, one London to another, eh" and it gets better, Middlesex county is just next door to here, which is the same part of London I live in back home. Oh yeah, and there's the small issue of the River Thames – makes you think, is there anywhere they didn't steal from us ?!?
You move to another University yet are constantly shown reminders of home…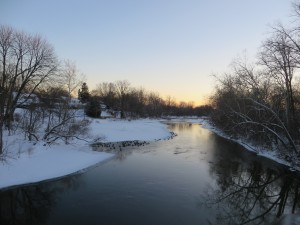 Anyway, the the University itself is a large sprawling campus that features modernist architecture not dissimilar to that found in Southampton. But the teaching itself is very different…..I have noticed class sizes are much smaller here with a greater emphasis on frequent testing through smaller assignments rather than a large piece of coursework followed by an examination. They also do mid-terms here, pretty much as it says on the tin. Oh yeah, and I have lectures (or class if you're Canadian) from 7-10pm on a Wednesday, though I guess it does beat an 8.30am on a Monday morning.  Initially, I found the changes tough especially as it coincided with Semester One exams from back home but over time the changes are barely noticable.
What I have found though is that since I arrived, the Canadian's are generally a friendly bunch and this is immediately noticable by the frequent "how are you?" when you're shopping, at a restuarant or at a Tim Horton's. My fellow floormates have made me feel very welcome and this has helped me settle in…..but unlike University Halls back in Southampton, the vast majority of students share rooms here and this being a catered block encourages a good floor spirit, for any prospective Westerners, I was in Meredith!
Where do I start about the weather…..As mentioned earlier on, the snow has been in situ since my first weekend here – since 3rd January and as I look out my window, it's still there. No significant melts have occurred within this time, so apart from possibly once or twice it has been sub-zero the whole time. But often colder. A lot colder. I think the coldest has been around -24c (-35c with windchill), basically you don't want to be outside unless you have to! A sure-fire sign of acclimatisation is -2c doesn't seem so bad after all..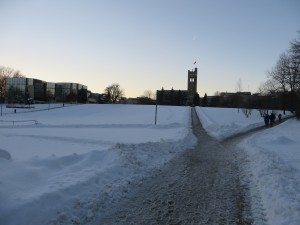 To combat the bitter cold, Canadians devised the ultimate comfort food – Poutine. A bizarre combination of chips (French Fries for Canadians), gravy and cheese curds which tastes better than it sounds. I too thought it would be an appalling dish, but it's a definite improvement of  Chickoland's cheesy chips (even if my memory of them is hazy). And actually takes place in lieu of a meal albeit a slightly stodgy one.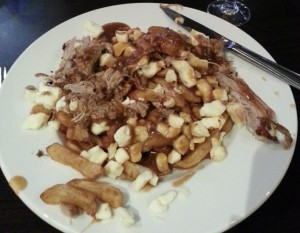 I'll be posting again shortly with a little bit about a few 'breaks' I took from studying in both senses….Overall, it's been a really enjoyable first two months which have been very hectic and at times stressful…but I am still so pleased I took the decision to study abroad in Canada, I really do recommend studying abroad if given the opportunity!
Two (very cold!) Months at Western