---
I have been in Sydney for exactly two weeks now so I thought it was time to write a blog!
Well I may as well start with the flight over here! After 22 hours of copious film watching on the plane, not to mention waking up with my leg on a strangers lap and dribble all over the complimentary pillow, I really welcomed the bed I had waiting for me. It didn't take long to arrive from the airport to my hostel called The Cambridge Lodge. I completely recommend this hostel if anyone finds themselves in Sydney and in need of a bed! I shared a dorm with six other people. At $35 a night I was more than happy to have a few bunk buddies. However, I'm not sure they welcomed me after my mum rang at three in the morning and woke everybody up, except me of course because I'm a heavy sleeper so I just let it ring and ring and ring. I wasn't too popular the next day!
So my plan was to find a room to rent for the semester. I had been searching while I was still in the UK but I was a bit wary of scammers and actually encountered two people trying to sell me a room they either didn't own or they'd completely fabricated. So I made up my mind that I would only part with my money once I had seen the place with my own eyes! I used a site called Flatmates which is very easy to use. I got in contact with an amazing woman called Elena who really looked after me and found me a room! Within a week I was all set up in my own house with four housemates. My house has a real international feel; there is a mixture of Spanish, Brazilian, Chinese and English. The Spanish and Brazilian are the quirkiest people I've ever met and I can't help but laugh constantly when I'm around them. Wine in the afternoon, or even for breakfast, is a regular thing for them – but I think I'll stick to my cup of tea!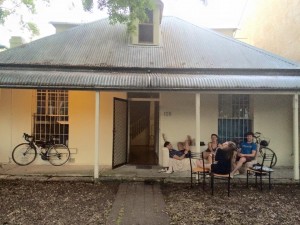 On the first day I arrived I had a house viewing and so boarded a train from Stanmore, where my hostel was located, to Redfern. I'd just like to point out my excitement at seeing for the first time ever a triple-decker train! I had the option to sit on the upper or lower deck but as I'm not that crazy and also a creature of habit I stuck with the middle deck. I was also very pleased that a train ticket is like $4! I would not recommend Redfern as a place to live. I got the impression it wasn't very safe. My campus tour guide then confirmed this when he advised us to avoid Redfern train station at night. However the surrounding suburbs are great. Newtown is my favourite with its bohemian atmosphere and vegetarian restaurants.
I did not let the worrying house search stop me from adventuring in the first week. I visited Many beach, Bondi beach, a gay and lesbian mardi gras festival, Goat Island, the Sydney Opera House, the city centre, and also the Blue Mountains! I'm yet to discover the less touristy quiet coves. Manly and especially Bondi are quite touristy and are packed with the sun burnt British and golden brown Aussie surfers! But if you're into a livelier place with shops and cafes then Bondi is the place to go!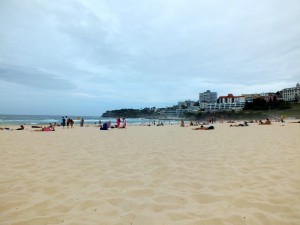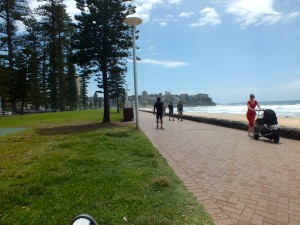 The gay and lesbian mardi gras festival was very interesting to say the least. It was held in Victoria park which is situated right next to the university. It was full of lively music, spectacularly dressed (and crossed dressed) people, dogs with their own funky clothes, circus acts and some stalls selling items that belong in fifty shades of grey. I spent the afternoon making bath bombs with the company Lush who I especially like because they do not test on animals!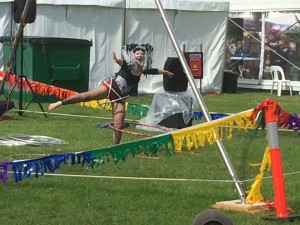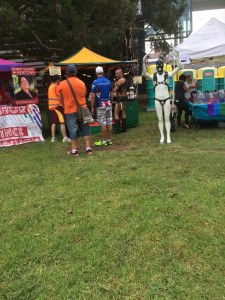 The University also offered several day trips so Georgia, (another Southampton student) and I decided to go on a cultural cruise day! We boarded the ship right by the opera house, which I thought was much bigger than it is in real life, but it is still spectacular. We visited Goat Island and saw an aboriginal dance, and learnt about the past culture. The tour guide told us that a criminal from Devon, my home, was especially troublesome and was restrained by being chained to a boulder. I wonder if we were related? One of my family members was sent to Australia for stealing a loaf of bread, so who knows!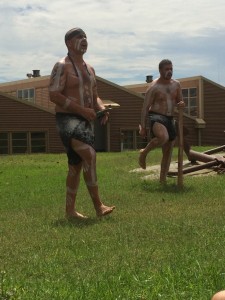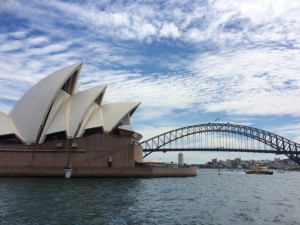 I also visited the Blue Mountains which is a national park about a two hour train journey away from Sydney. The forest is filled with eucalyptus trees which produce a blue haze, hence, the name "Blue Mountains". It used to be an old mining area and so in keeping with the past the railway track, which is the steepest in the world, is available for people to take a ride on! I went on a Sunday and so it was rather busy. I waited for quite a while to board the train but I'm terrified of heights so for the whole ride I basically had my eyes shut – but I'm sure it was amazing. The rest of the forest and the views were great! However, the day began to feel like something out of a horror movie. I stopped on my walk over to the national park to put sun cream on. I found myself standing in front of a shop that had the weather forecast on a TV screen. I read the words THUDERSTORM but I went ahead and carried on with my visit as the weather seemed fine. On my way back to the train station the sky started flashing and rumbling filled my ears. To save a bit of money I walked back. However this walk was through a woodland area and as the thunder and lightening got closer I began freaking out and noticing trees that looked as if they had previously been struck by lightening. I almost felt the lightening storm was moving closer so I began running up what seemed to be the steepest hills in history. I couldn't breath, I was red, sweating, thirsty and then the downpour came and I got soaked! I managed to get back to civilisation, which was about 5 minutes away from the train station. A creepy girl then came skipping past singing "we're going to be struck by lightening" which basically topped it all off! I thought the best place to shelter was the underground part of the train station while I waited for my train. Suddenly there was a twang as if something heavy had struck some metal. Preceding this noise were screams and the sound of fire engines. Nothing was too badly damaged and no one was hurt, but the train was delayed! All in all, it was a rather exciting day and I would 100% do it again!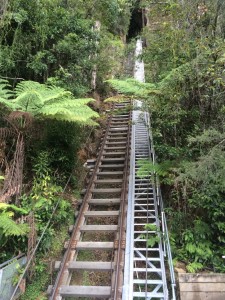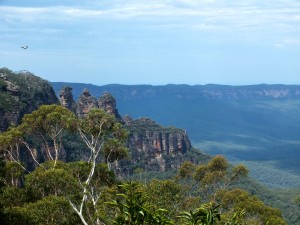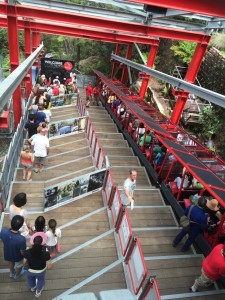 Lectures have begun now and I'm getting to grips with my timetable and the huge campus! I met an English guy who told me that in Sydney they don't have the same kind of banter driven rivalry between universities- I think it's fair to say Southampton students really enjoy a laugh at Solent's expense. He said he tried to engage in this banter with a New South Wales university student and they just couldn't understand why he was, in their eyes, being so mean. So note to self do not initiate any banter driven rivalry. The most stunning part of the campus, apart from its abundance of leafy green space, is the building called the Quadrangle. One side of this building is inspired by the University of Cambridge and on the other the University of Oxford. Apparently it was also used in the filming of the Great Gatsby!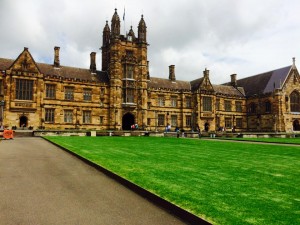 All in all the first two weeks have gone smoothly and I've managed to pack each day full of a new adventure!
I've spent my afternoon doing some reading for my course on these funky sun loungers, couldn't get any better, right?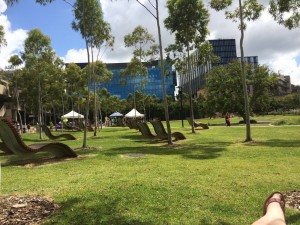 Beach, city, Islands, festivals, thuderstorms and more – The first two weeks experience!