---
My name is Yvonne Richmond and I am an Administrator in the International Office.  I was delighted when in early January my application to attend an Erasmus Training week in Erlangen, Germany was approved. Over the coming months I received regular communications from the Erasmus co-ordinator until eventually the final programme arrived and I set off with great expectations.
I was not disappointed! Erlangen is a beautiful Baroque city in Bavaria with a population of 107,000.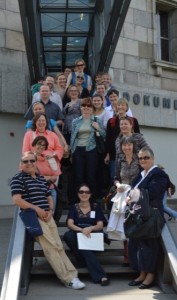 The University of Erlangen-Nuremberg or Friedrich-Alexander Universitat (FAU) was founded in 1742 and today around 24,000 students study there. It is highly regarded in the fields of Engineering and Medicine. The campus is based in 3 different sites – Erlangen, Nuremberg and Furth and I soon discovered that in Erlangen everyone travels by bicycle (there are 85,000 in use).
On Monday morning I made my way across the historic market square past the flower and vegetable stalls to the Central Office of International Affairs. There I met 24 colleagues who had travelled from Bulgaria, Turkey, Poland, Croatia, Italy, Spain, France, Finland, Hungary and the UK. We received a very warm welcome from the Chancellor, Thomas A. H. Schoeck and  Bianca Kondgen (Deputy Head & Erasmus Co-ordinator). The remainder of the day was spent getting to know each other, participating in a quiz "Culture Shock Germany" and networking over lunch before joining a guided tour of Erlangen.
Historic Market Square.
Over the rest of the week we enjoyed a variety of workshops, presentations and discussions on Incoming Students, Advising International PHD Students and Visiting Researchers, Outgoing Students – Motivation, Selection and Tutoring and Staff Mobility – Best Practice Workshop. We also visited the campuses at Nuremberg and Furth and had individual visits to Faculties and areas of specific interest. I was able to visit the Department of Sinologie (Chinese studies) where I spent a fulfilling afternoon meeting staff and students and comparing practice.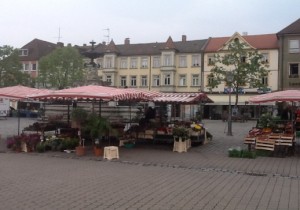 One evening we visited the famous Steinbachbrau Brewery where we met with exchange students answering their questions whilst sampling the beer and bratwurst. On another we congregated at the Document Museum in Nuremberg and experienced a very interesting audio tour which covered the history of the area from 1930 to 1950. It certainly gave a great insight into Germany during the 1939 – 1945 period. The photograph on the right shows the group on the steps of the Document Museum.
The week was extremely enjoyable and one that I would highly recommend to other staff. It was a wonderful opportunity to meet colleagues from across Europe providing us with occasions to exchange and evaluate good practice. It also made me reflect on my current role and view it in a different perspective.
Staff Exchange Experience – Yvonne Richmond