---
Well,
I have been here two months and it seems my time has been filled with essay after essay and book after book (I'm actually writing this blog to delay starting my third essay of this week).
The work load is more than Southampton and so are the contact hours (over 12 hours a week compared to 6/8). Another difference is that people rarely do just English, or any one subject. The students find it very surprising that I study all English and constantly say "Ah well I decided this term to do a module in English because I thought it would be a nice change from ancient Greek and economics". Strange huh?
It seems I am indeed an oddity in studying all English modules, but for this reason ALL my deadlines are at the same time (I suppose they think students won't suffer these deadlines if they're only doing one or two English modules). So here I am on a Monday morning with 20 things on my to do list and weather that is screaming BEACH! Ah what a torment.
They also love their presentations out here, which you are graded on too! I have to lead a tutorial for two hours with another person and as I've never done this before I am somewhat nervous.
BUT without sounding too melancholy I did manage to fit a few fun things in over the fleeting easter week we got given off. (Why did Southampton spoil us with a month at easter, I feel robbed?)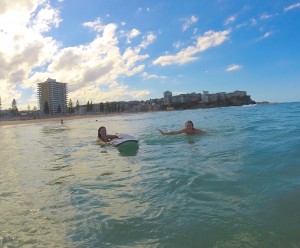 This photo is of Georgia and I at Manly beach. We hired a surf board for an hour and split the cost so we had a cheap hour of falling flat on our faces! The water is warm, well at least in comparison to the English sea! We didn't hire wet suits and after the hour we did begin to feel a bit chilly but that was mostly because we spent the time bobbing around watching each other fail miserably.
I would recommend going to see the fireworks on Darling Harbour too! They start at 9pm every Saturday and are only about 10 minutes long, but it is a great atmosphere sitting on the water front!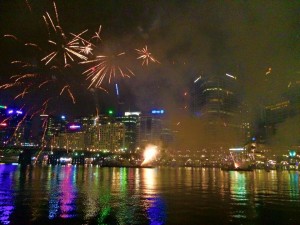 There is also lots to do at darling harbour,  (cinema, aquarium and so on!) We had a little look at the aquarium. What we are looking at is a Dugong. These are very playful and kind creatures that the aquarium rescues and then eventually releases into the wild.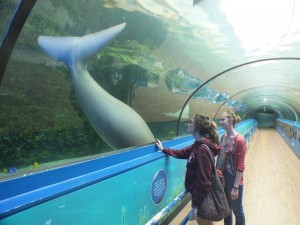 Oh and I have to include the last two pictures –  These are our French friends that Georgia and I met in the first week at a house viewing. We have been friends ever since (despite being in competition for a place to stay). We have discovered Thai food together, been surfing, to pubs, clubs and shared several BBQs! It is funny to think that I'll come back from Australia with a slightly improved french vocabulary.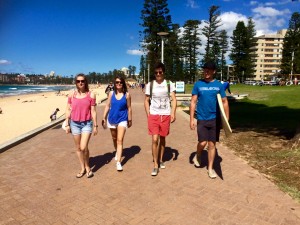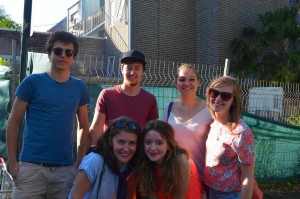 That is all from me at the moment, now its time to write that essay that won't write itself.
Au revoir!
Two months in the work begins!