---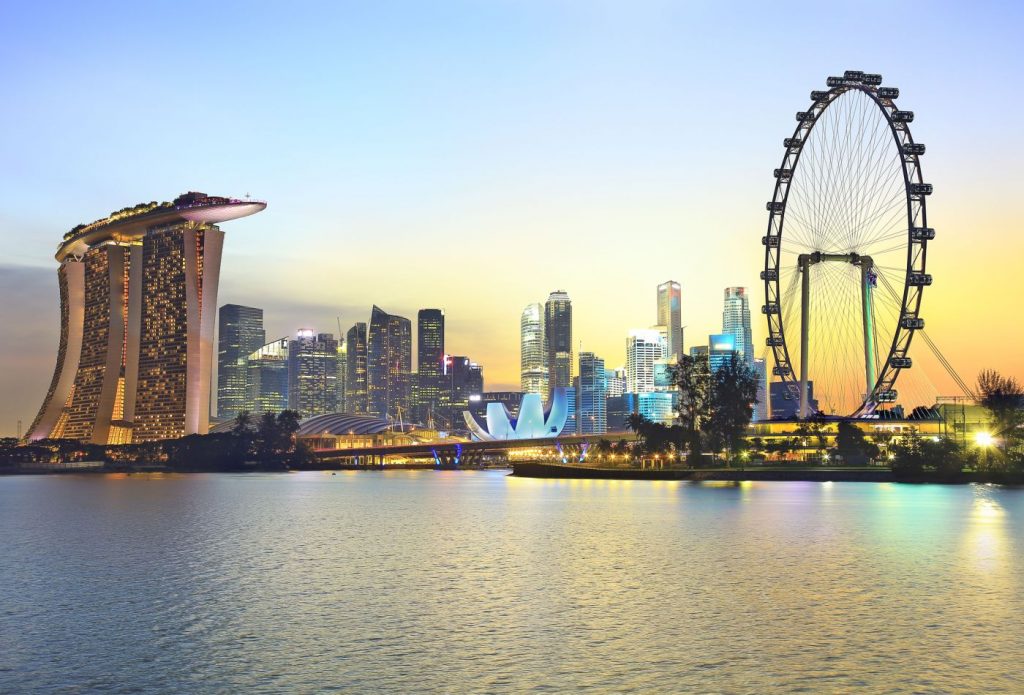 Prologue
As of 2019, the 2nd semester In Singapore starts on the 12th of January. The 1st semester in Southampton, on the other hand, doesn't finish until the end of January, furthermore, if you're exchanging in the second semester of your 4th year you'll likely also have a thesis to write, poster to design and presentation to record, which from experience, the deadlines for these assignments can run until mid February. Meaning that as an exchange student, if you have exams or coursework you will find yourself having to juggle both semesters at once for a period of 1 month. If caught unprepared this can have a bad impact on the experience so it is important to plan ahead!
Workload distribution
The first difficulty that myself and other Southampton students in Singapore found is the different workload distribution associated with some modules. The modules tend to issue light weekly or bi-weekly assignments together with a big project (usually issued after 2/3 weeks of teaching) however, this project after it has been briefly assigned its hardly, if ever, mentioned again. This left a lot of us wondering throughout the semester when the material was going to be covered to then start attempting the project. This then led us in starting these projects late.

One of the biggest, as pointed out from the workload graph, is juggling both Southampton and Singapore commitments at the beginning of the semester. The most challenging of those activities is having to go to the Southampton Malaysia campus to sit the home exams, I had the luck of doing 2 and in the following section, I will go over how to travel there, so it'll be easier for you if you're ever in such situation.
Going
The service you'll be taking is the causeway link CW3 a yellow cross-border bus.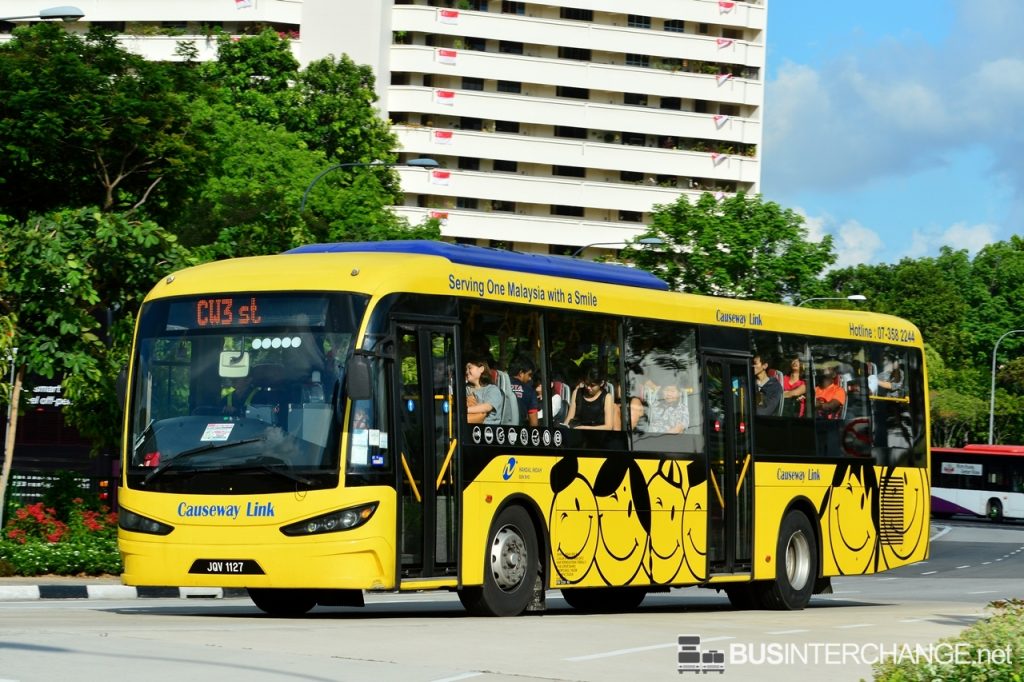 You'll be taking this bus from Jurong east boon lay bus station, which is located right next to the Boon Lay MRT (metro) station.
https://businterchange.net/johorbus/routes/routeinfo.php?service=CW3
This service will run until Perling Mall, located next to Johor Bahru and will see you having to leave the bus twice for passport control.
However the station you'll have to get off at is:
Bazar Mydin Anjung
The first station right after the second checkpoint.
The price of going is S$4. 50, it can be paid with the Nets, Easylink or Cash just before getting on the bus.
On weekdays the first bus is at 07.10am until 11.45pm Saturday and Sundays at 07.30am until 11.45pm
It runs every 5-40 minutes
First checkpoint
This is the Tuas Checkpoint, you will need to leave the bus and take all your belongings.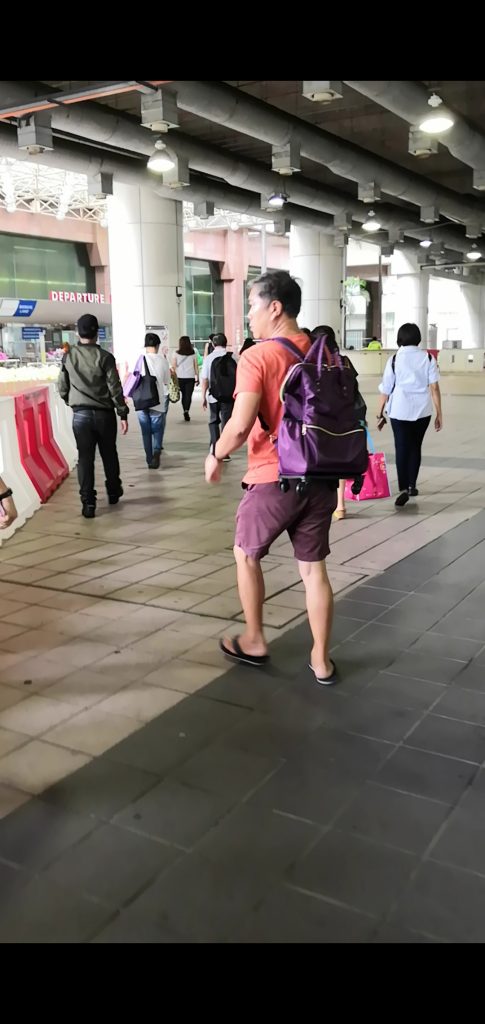 After which you will enter a border crossing establishment where they'll check your fingerprints and passport. Coming out you will have to queue up and wait for the bus, you won't need to take the same bus. If the one you were on left do not panic. You can just take the next one.
While in international territory the bus will cross a bridge, where you can admire the amazing scenery while approaching the CIQ second link checkpoint.
Second Checkpoint
On arrival, again, you will need to take all of your belongings through passport control and even have your bag At the other end, you will again have to wait for the bus.
When you arrived at Bazar you will literally 'be dumped by the side of the road in the middle of nowhere', that middle of nowhere being opposite to the Bazar shopping center.
At this point, there are two options to get to EduCity, get a Grab (South East Asian Uber) or Walk. Walking takes about 25 minutes and will see you walking through some non-paved sides of the road and having to do some risky jaywalking, hence, although it's not what I did, for your health and safety I do recommend taking a Grab.
However, If you are walking.
Walking to the campus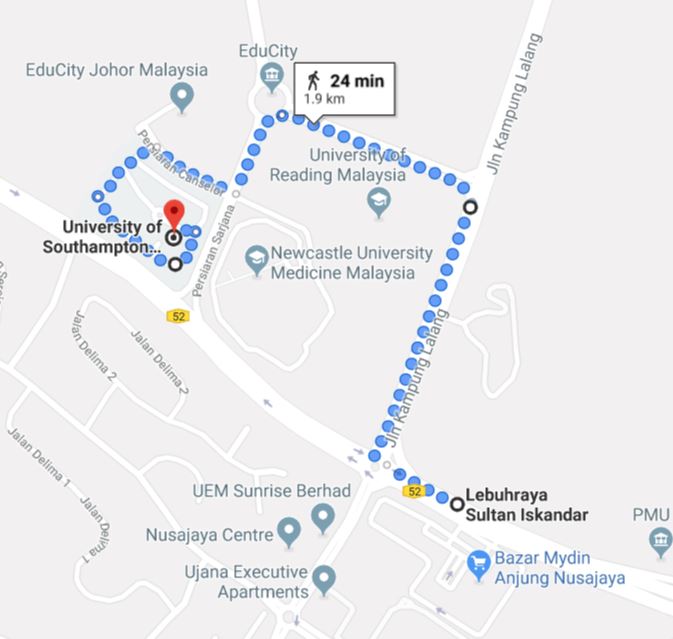 Before entering EduCity, you'll see the logo and directions to various UK universities.
Southampton is quite hidden compared to the other universities, after entering a gated community you'll have a white, light blue and orange building in front of you and MMU on your left.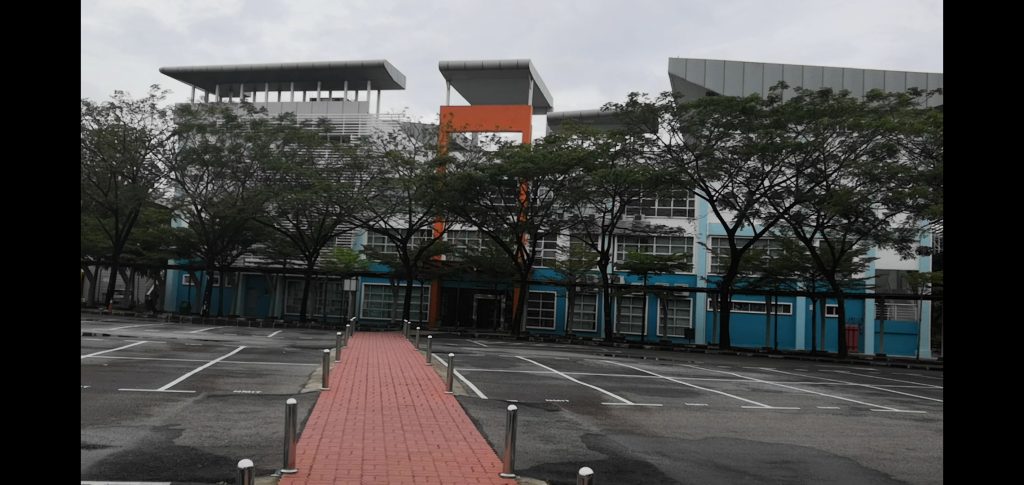 To find the main entrance to Southampton you will have to follow a road that goes behind the white, light blue and orange building on the right.
After following the road you'll see the iconic Southampton logo! you've made it!
Journey Back
The bus is located opposite to where the previous bus dropped you. There isn't a bus stop, so make sure when the bus arrives the driver can see you. This bus costs 5 Malaysian Ringgits and cannot be paid in Singaporean dollars. Luckily, there is a money exchange counter in Bazar around Subway.
The last bus departing from Perling Mall is at 21.50 on weekdays, 21.30 on Saturdays and 21.40 on Sundays, so it's important not to arrive at the Bazar station too late!
The journey back follows a similar process, you will need to do two border crossings. The bus will arrive at Jurong East at the same location as where you left.
Well done! you've arrived at the Malaysian campus and managed to make it back!
Taking Southampton exams in Malaysia while in Singapore