---
I have been studying in Madrid for 5 months in the Universidad Complutense de Madrid
The reason I chose to study in Madrid is because first of all I previously lived here for 4 months as an au pair so wanted to go somewhere familiar, because the official language spoken in Madrid is Spanish and as a Spanish language student this was perfect for me to improve my language skills and finally because I love busy metropolitan cities with lots to do and see with lots of people to meet.
Since being in Madrid I have visited a whole array of places of interest, especially museums and art galleries and really enjoyed the cultural side of Madrid. I have been to lots of parks as well because there are quite a lot of green areas dotted around the city which are very beautiful
Uni life:
Overall University in Spain is a lot more relaxed than in England, lectures never start on time, at the same time each lecture is two hours long so I have had to accustom myself to this amount of time as in England lectures are 1 and a half hours max!
The life of a student in Madrid is great, although very different from University in England and it has taken me a while to get used to this. I normally go for coffee after my lectures to meet up with some of the friends that I have made here and so that I can practice my language skills, we sometimes do language exchanges too before our lessons where we speak both English and Spanish. Sometimes I go to Retiro Park after my lectures to have lunch and sit in the sun and sometimes even do work there, getting tanned while studying, what more can you ask for!
Nightlife:
In terms of nightlife in the city the choices are endless, it would be quite easy to get distracted from your studies with the huge amount of options you have in the city. I have visited many different nightclubs and bars that suite a whole range of different music tastes from Goya Social Club that was 5 minutes away from me to Kapital which is one of the biggest nightclubs in Europe.
Being a vegetarian abroad:
Being a vegetarian in Spain has not been the easiest of things as we all know Spain has a love of Meat, when I first came here I was quite shocked with the amount of options I had but after a while I realised it wasn't as bad as I first thought once I knew what to order and what restaurants to go to. I have actually widened my recipe knowledge since I've been here as I've not been able to rely on meat substitutes as much as I did in England. I found an amazing restaurant called Viva Burger which is in one of the artsy areas of Madrid called La Latina and went here for lunch quite a lot and the food was amazing, would definitely recommend not only for vegetarians in the city but anyone can enjoy the food here. In the menu were things like veggie paella and meatballs, two things that I didn't think I would be able to try while in Madrid as both recipes normally contain either meat or fish. They also did amazing smoothies which were absolutely delicious!
Difficulties I have encountered:
I have noticed in many student blogs students go through all the amazing things about their year abroad but skip over the difficulties they have encountered, I'm not going to do this! The first difficulty I have encountered while studying abroad is culture shock, studying in another country, speaking in a different language all day and trying to make friends while doing all this is difficult to say the least!
I have also felt somewhat homesick during parts of my year abroad but have overcome this by firstly making sure I keep in contact with all my friends back at Southampton and made sure to face time them regularly! I also call my mum nearly everyday so that I can keep her updated with whats happening here.
Overall, the difficulties you will encounter far outweigh the amazing experience of living abroad and especially as a language and linguistics student to be able to practice the language.
Some pictures of some of the places and things I have done while on my year abroad:
This is a photo of when I went to see Van Gogh the live experience, it was such an amazing experience and one of my favourite parts of my year abroad so far. I have become a lot more interested and appreciative of art in all its forms since coming to Madrid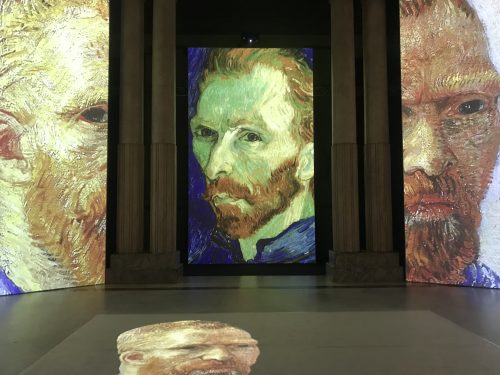 This is a photo of me acting all cultural at the Santa Isabel contemporary art museum which I enjoyed a lot. What made the visit even more special is one of my best friends who is currently on her year abroad in Italy came to visit me at this time and came to the art museum.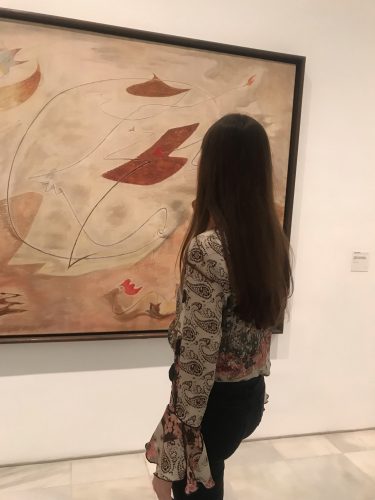 This is a picture of parque del retiro which is one of the most popular parks in Madrid and for a reason! The park is stunning and is lovely to go to after a long day in University to chill out and meet up with friends. I also go to the park for runs as to try my best to keep fit during my year abroad. Plus the park is only a 10 minute walk from my flat!
Overall, if you are wondering whether to do a year abroad I would say go for it! The experience of living in another country is out of this world and yes there will be challenges but anything worth doing comes with challenges.