---
Bula! My name is Callie and I am in my second year studying BSc Geography at the University of Southampton, and earlier this year I completed a 12-week virtual internship with Think Pacific.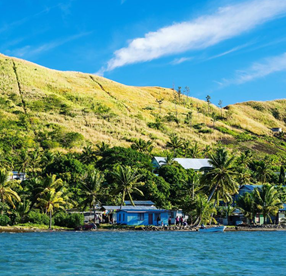 It was the height of lockdown at the time, and I wanted to start building my CV and find opportunities even though I couldn't leave the house. I had planned to travel to Fiji with Think Pacific in July 2020 but this was unfortunately cancelled due to the pandemic, however the goals of Think Pacific of educating young Fijian children and helping them access better opportunities was something I still wanted to know more about and help with any way I could, which is when I found out about Think Pacific's new virtual internship scheme. The program itself is very flexible with a choice of 4-, 8- and 12-week programs so I was able to complete the internship alongside my first-year studies, and there is the option to choose between 9 different career fields to focus on. I chose the environmental field as climate change and global warming are issues that especially affect rural communities, and Fiji as a whole being a country already subject to extreme weather.
The internship itself is costly, however the Study Abroad team at the University of Southampton offered a bursary, making my involvement in the program possible.
The program involves creating an action project and presenting it in an online format. You record yourself and send it over as a video file, so you won't have to present in front of other people and you can retry the presentation as many times as you want until you are happy with it.
Overall, I greatly enjoyed completing this internship and would recommend it to anyone looking for the opportunity to develop skills such as remote working, time management and presenting, either in the summer or alongside your studies!
Vinaka vaka levu! (Thank you very much) 😊
Think Pacific – My Virtual Internship