---
Hi, I'm Ethan and I have spent the last 9 months alongside five other students carrying out a research project at the Center for Astrophysics | Harvard & Smithsonian (CFA) for my final year of MPhys Astrophysics with a year abroad.
However, before arriving in Boston, three of us stopped over in Iceland for three days. Iceland is a very nice country with lots of nature to explore. On the first day and last day we explored the city.
On day 2 we did the golden circle tour which took us to Þingvellir ("the fields of parliament"), a place where two tectonic plates meet, and disputes and crimes were settled. The next place was Strokkur geyser, a large geyser that erupts every few minutes with several smaller geysers and sulphurous mud pools surrounding the area. The last two places were the Gullfoss waterfall and the secret lagoon, a geothermally heated outdoor swimming pool.
When we arrived in Boston, we spent a week exploring the local area of Sommerville and Harvard university before starting our research in September at the CFA.
We had some amazing landlords that invited us to several events and drove us places such as a street party when we arrived, apple picking in October, several dinners for the different holidays and runs to Costco.
The CFA has been a great place to work as there are always many events and people to meet. Every day at 10:00 there is a coffee hour, with Friday having doughnuts, each day has either a journal club where we discuss different research papers, or a seminar, where people can present their research, and social hours for graduates to hangout and eat pizza. Throughout the year there are also several events such as treasure hunts, game nights, movie nights, etc. My supervisors were also great, letting me explore random side projects, or join other projects, as well as meeting with many different people which helps you get different perspectives on solving problems.
In November three of us got COVID after a Halloween party, causing us to miss Halloween, but fortunately, I recovered just in time to see an American football game of Harvard vs Columbia.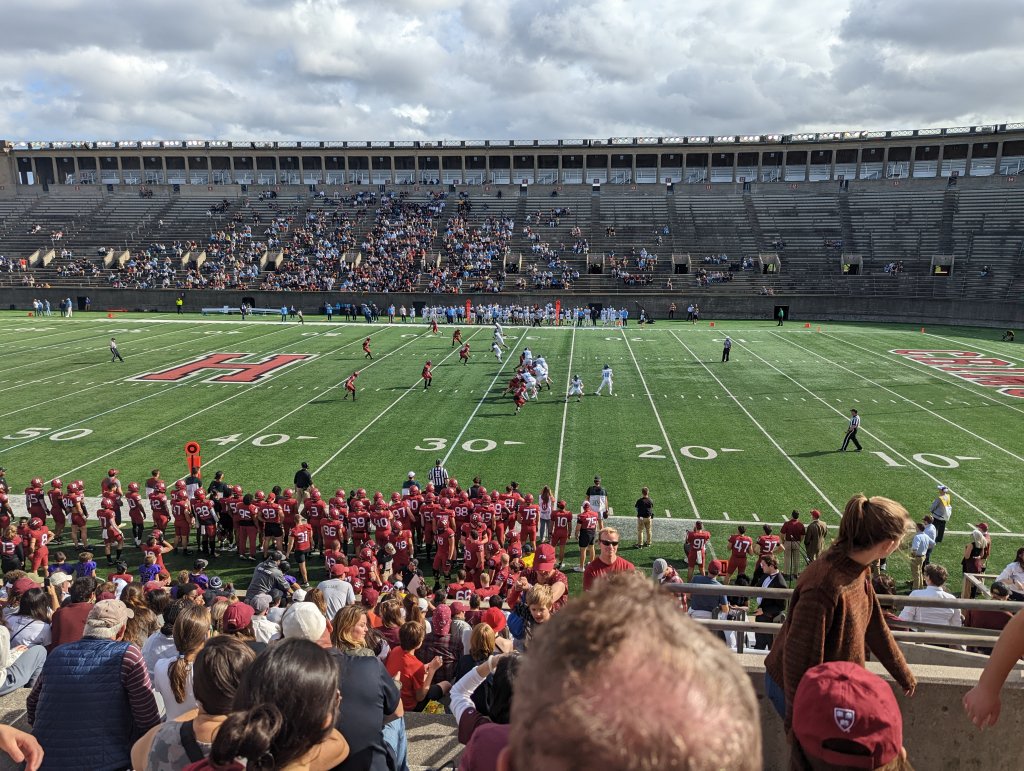 In December, the five of us, along with two others, travelled to New York to see the city during the Christmas season for four days. We stayed in Brooklyn and explored Manhattan. We visited central park, Twin Tower memorial, World Trade Center, Brooklyn Bridge, the Natural History Museum, Christmas markets, Museum of Modern Art, many of the different landmarks.
Over Christmas I visited some family in North Carolina who took me to explore Charleston in South Carolina, an old city where the first shots in the American Civil War were fired. We visited an old WWII destroyer, the USS Laffey, and an WWII aircraft carrier, the USS Yorktown. We explored Fort Sumter which started the Civil War and was part of one of the final battles. The last place in Charleston was Middleton Place, an old plantation. Back in North Carolina, we visited Biltmore Estate, a gingerbread house competition and the city of Charlotte.
In the beginning of January, we visited Seattle for a week for the American Astronomical Society conference to present a poster of our research. Me and a friend visited two days early to explore Seattle and visited the Cougar Mountain Regional Wildland Park and the Snoqualmie Falls. The next day we were joined by two more friends and explored Pike Place Market, the Gum Wall. The remaining days we spent at the conference meeting people and watching the talks and enjoying lots of good food either from the conference center or thanks to our food per diem.
We had a warm winter in Boston, with only one night that went below -20 degrees, so we didn't get much snow, but still had plenty of uncomfortably cold days. By the end of January, we finally got some decent snow; however, we didn't get much more after that.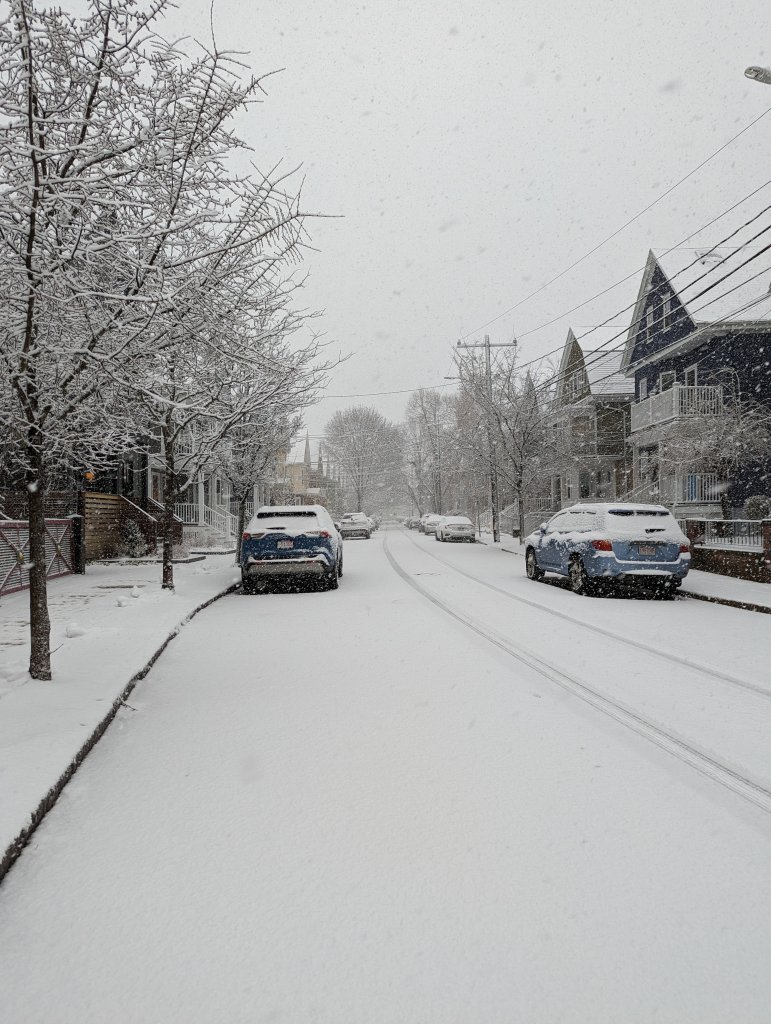 In February I got to visit Heidelberg in Germany for three days and Amsterdam in Netherlands for one day for PhD interviews. On the way back, my flight to Iceland was delayed, causing me to miss the connecting flight; however, I got to see the northern lights.
Back in Boston I went to a CFA workshop for a proposed X-ray space telescope, where there were many talks, and I was able to present some of my research for the mission.
In March, me and a friend went to see the St. Patrick's Day parade which had lots of military, marching bands and music.
In April the five of us went up to Salem which is where the American witch trials took place. I then visited Providence with another group of friends where we visited the Providence Athenæum, Brown University, and John Brown House. The next day we visited the Museum of Fine Arts.
At the end of April, my sister visited, and we did a tour of the Freedom Trail, which contains lots of the history of Boston; and explored Boston Public Garden. The next day we visited Salem again.
In May we were wrapped up our final report and crammed in everything we wanted to see before we left as the weather was improving. First, I visited the Harvard Arboretum with a couple of friends, then I went to the Middlesex Fells Reservation and the Isabella Stewart Gardner Museum. The four of us then went to see the Boston Red Sox team play against the Seattle Mariners in baseball. The next day we presented our research at the CFA as our final requirement before we leave. Afterwards, three of us then went to visit Mount Auburn Cemetery, the oldest garden cemetery and then grabbed some hot chocolate from a chocolatier. In the last two days before we left, I went to the Harvard Black Hole Institute conference, which combines mathematicians, philosophers, astronomers and sociologists; and finally, to the Harvard Natural History Museum, which contains glass flowers used by Harvard biology students.
The year abroad has been a great opportunity to learn more about different cultures by immersion, explore different parts of the world and meet lots of interesting people. I was also lucky that I was able to explore so many different states and countries during the year. The CFA has been a great place to carry out research and has helped a lot with setting me up to do a PhD over the next few years.
I recommend trying to do as much as possible and meet with lots of people. Also, if you're in Boston, try to do as many activities shortly after arriving as Boston is cold and you won't want to do much during the winter, and in spring, you'll be busy with reports.