---
In September, I spent two weeks in the beautiful city of Prague studying cross-platform journalism, a relatively new strand of journalism which embraces diverse media such as social media, photography, and interactive videos. These forms of broadcasting news and opinion can be effectively combined with 'traditional' journalistic techniques such as article writing. As a student of English Literature, I am very much focused on reading books from history at university – that is why this summer school was so enlightening to me both technologically and when thinking about a potential career.
Early on in the trip, we were taken around the city on a guided tour, which, apart from being an excellent Instagram opportunity, was an unforgettable cultural experience. Spotting memorials of Charles IV, King of Bohemia, was not hard, as the Holy Roman Emperor popped up everywhere, to the statue next to the bridge which is named after him, to the title of the world-renowned university. One might think that Charles is the only Czech cultural 'celebrity' – until you head into the centre of the city and locate the giant, silver, rotating head of early twentieth century dystopian author Franz Kafka. Kafka owns the city of Prague: look down, and you see his name engraved on the pavement, look up and you see an abstract statue of the man hanging from electricity pylons by an umbrella.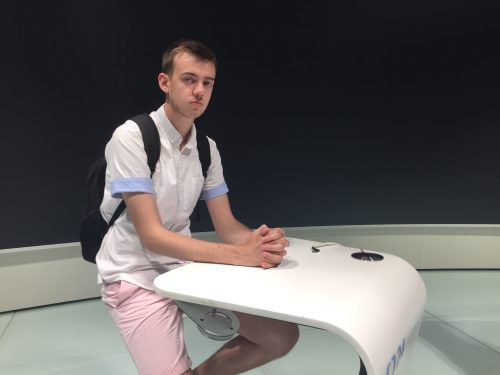 And that is why he formed the basis for my project. After being selected for the arts and literature group, we chose to look at adaptations of artistic and literary culture around the city of Prague. Whilst some looked at the paintings of Alphonse Mucha, I looked at the short stories of Kafka, in particular, The Metamorphosis. This led me, by week two, to be standing outside of the Kafka museum of a muggy September afternoon with an iPhone, camera stand, and microphone interviewing tourists and locals alike about their interpretations of Kafka. The video in which these interviews take place can be viewed here:
http://prague-correspondent.fsv.cuni.cz/?p=2781
After the multimedia aspect of the project, I got down to what I do best: writing. Here is the abstract for my essay on adaptation of Kafka in Prague:
Franz Kafka was a Czech literary legend when his works were first published shortly after his death. One might expect his influence to have waned since the discovery of his talent, but as the academic world prepares to mark the centenary of his death, it is easy to see why Kafka still remains at the centre of European Modernism, as new media have allowed us to retell his haunting, abstract tales of humanity. Thus it is not surprising that in 2002 Russian film director Vareli Fokin embarked on the ambitious yet noble project to bring Kafka's Metamorphosis to a new generation of consumers through film. This article will explore the inherent adaptability of Kafka's original text in relation to Fokin's loyalty in reimagining the devastating life of Gregor Samsa.
To read the full essay, click here:
http://prague-correspondent.fsv.cuni.cz/?p=2127
Another aspect of Prague which I feel really made my experience was the friendships built through the organised (and spontaneous) day and night trips. There is a kind of mystery around the greatness of Czech beer, and the stories are true; some of the best pubs I have ever been to, including an Irish bar, exist in the city, and the iconic five-storey club is as memorable and messy as the legends that surround it. Despite the greatness of these places, the two occasions which will stay with me for the longest most fondly are the karaoke bar and the Globe bookshop, cafe, and bar. Three times we returned to take over the karaoke bar and bless the ears of the customers with our ABBA-solutely fantastic, if slightly intoxicated, renditions of 'Dancing Queen' and 'Super Trouper'. The Globe is an English bookstore run by Gibraltarians, with a comprehensive collection of British and Czech literature, and behind a curtain in the back is a hidden cafe-pub which hosts regular themed quizzes, including the much-loved British and Disney quiz. On my last day in Prague, I sat, melancholy, with my best friend from the summer school, and enjoyed a large, warm chocolate brownie with ice cream and fondly looked back at the previous two weeks. In that pub, friendships for life were formed, and I will not be surprised to find myself there again in a few years in the same company.
Overall, my summer in Prague opened my eyes to newly formed and forming types of journalism, and demonstrated to me how young people and their habits are helping to shape the future of the profession. Above all, I value the lifelong bonds that I have formed with kind, loving people from South Korea, Leeds, Amsterdam, Costa Rica, Brazil, and many, many other locations. From now on, I will have a place to call home wherever I find myself in the world.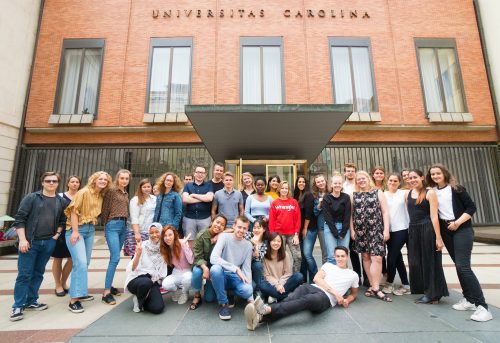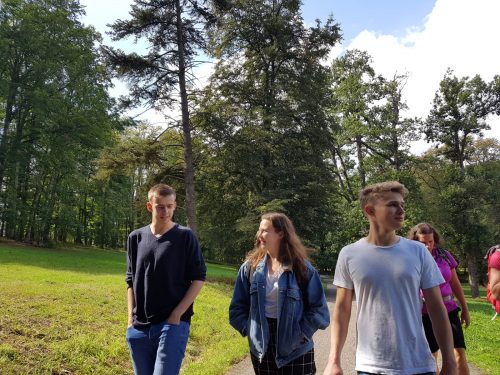 Journalism School: Czeching out Prague