---
Hi everyone,
My name is Kavinan Kirubendran, and I am currently doing an MSc in Behavioural Economics at the University of Warwick. When I chose to do this summer school course, Modelling Infectious Diseases and Health Economics, I was in my third year at the University of Southampton studying Economics and Actuarial Science. I chose this programme to gain an understanding of Health Economics as I had no previous exposure to the field. Given the current pandemic, I felt that there was a stronger need for health economists which was highlighted by the lack of preparedness in the UK when Covid-19 hit such as not having a sufficient amount of PPE equipment. I also applied to this summer school to improve my skills on R which I had touched on during my undergraduate studies, but I was not anywhere near proficient enough to be able to use it in a professional setting.
The first day of the course eased my nerves as it was mostly an introductory session where I met individuals of all types of backgrounds and experience. To my surprises there were very few students and the course was mostly taken by professional economists, some of which specialised in Health Economics and were looking to improve their skills in R. This gave me a large sense of pride as I felt that I had taken a large step towards progressing my professional career given that I was working alongside many established academics.  The first three days covered the first aspect of the summer school course which was 'Modelling Infectious Diseases'. This was where we used mathematical modelling to study infectious disease transmissions and reactive strategies. On the first day we spent most of our time understanding the biology behind infectious diseases and different forms of transmissions which was very helpful given I had no prior knowledge. The course then preceded to teach us the concepts of disease transmission modelling as well as parameter estimation and social contact patterns all within R. Although the coding was very daunting, most of the complex codes were given to us after we each had our own attempts at working with the data and the professors teaching the course were very helpful and encourages us to ask any questions regarding doubts about the maths or the R codes. Attached below is an image of my first attempt at coding the first exercise that was given to us.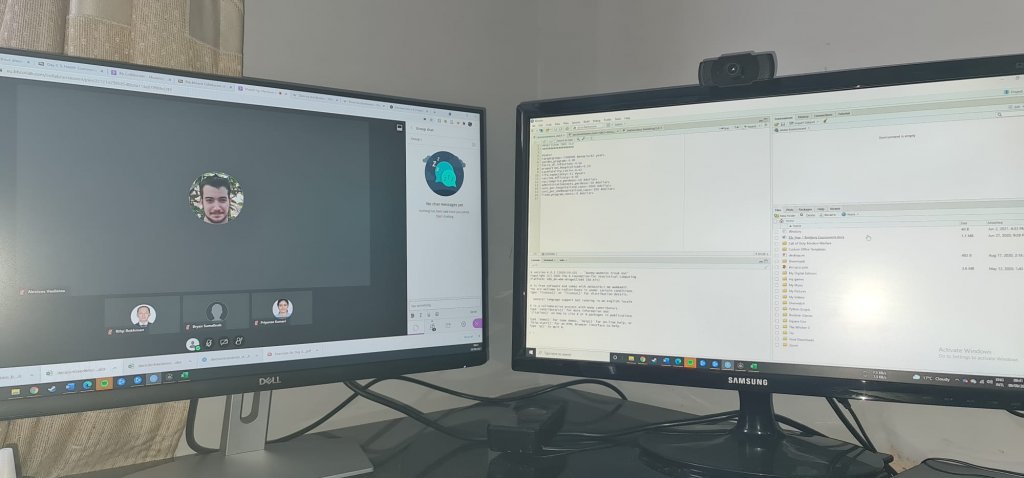 The final two days then consisted of teachings in 'Health Economics', which is what I was most interested in. The style of teaching had very much changed and resembled an economics class rather than the data science format we faced for the first three days. As an Economics student I found the last two days much more comfortable but I am grateful to have learnt in such various teaching styles and it has proven useful in my current MSc programme where I am further developing my skills in R. On the fourth day we looked at the logical steps for economic evaluations and was introduced to cost-effectiveness and cost-utility analysis in health economics along with applications to R and Excel. I found using Excel much easier due to my previous experience in the software so I was able to analyse the data much more easily. An example is shown below, where we had to calculate the cost-effectiveness of a vaccination programme having been given various statistical information: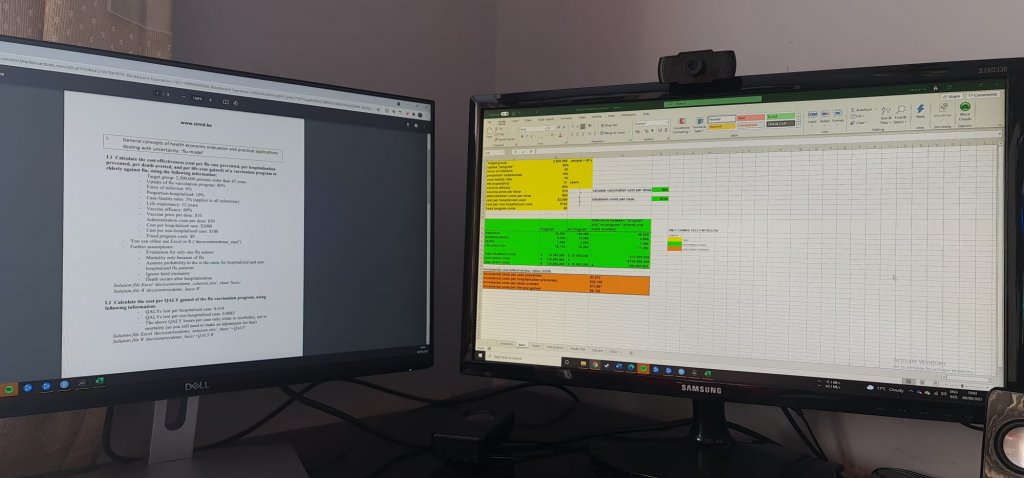 We continued the day by examining different costs that are faced in health economics and completed exercises in estimating utilities as we gave our opinions of choices we would make given a certain health state X. On the fifth day we looked at models of evaluations for health economics such as statistic and dynamic models and how we decide which model is appropriate to use. Finally we ended the course on the specific issues of economic evaluation and policies on infectious disease interventions. Although the course was very challenging, to process all the information and write the codes for the calculations, it was so rewarding to have an output that successfully displayed the desired results. That sense of accomplishment was a new experience that I have begun to rely on as motivation during my studies in statistical programming.
The summer school course was demanding but it pushed me to go beyond my undergraduate studies and start to think like both a data scientist and a health economist which I had never experienced in the past. I am so grateful for this opportunity that was given to me by the University of Southampton and by Dr Lander Willems who ran the programme and also participated in some of the teachings. I have learnt so much about infectious diseases and have gained a better understanding of health economics. Most importantly I have been taught complex R codes which I know will be useful in my pursuit to become an Economist. I would highly recommend this course even if you aren't an Economist and are simply interested in infectious diseases or data science.
Virtual Summer School Course at the University of Antwerp