---
The Brazilians have a famous saying; "O Brasil não é para principiantes" meaning that Brazil is not for beginners. This motif became apparent even before I had arrived.
Ever since I was young it had been a dream of mine to live in Brazil. I cite Ronaldo's double in the 2002 World Cup Final as my earliest point of reference for the birth of this ambition and it is one that had stayed with me since. I even selected my university course with the Year Abroad in Brazil in mind. The notion of lying on Copacabana beach with a cocktail in one hand and a football in the other is what motivated me through the first two years of classes, assessments and exams. I even had a poster of such a scene on my bedroom wall for that extra boost. All the (moderately) hard work was going to be worth it once I was soaking up the sun and the samba lifestyle. But I was well aware that the organisation to realise this day-dream had only begun.
I had inflexible tunnel-vision to spend the year in Rio de Janeiro and because there were no university partnerships there I knew I had to find myself a work placement. After months of e-mails and written references and interviews I had finally tied down an paid internship in a boutique hotel on the outskirts of Rio. Having worked as a barman in a restaurant in Southampton I surmised that working in a hotel was just a logical step forward in the hospitality trade. In all truth, I was just relieved to have secured a job in Rio de Janeiro. Everything else was secondary.
But the uphill climb to finalise my trip only got steeper from there. The hassle to secure my VISA to Brazil was arguably the most stressful challenge I have had to face. And that is not an exaggeration. The Brazilian authorities make it incredibly difficult for foreigners to spend an extended period of time in their country. Taking umpteen trips down to Dublin to wrestle with the embassy for all the documents needed to get my VISA, I wondered if this was a lost cause. The local Dublin taxi drivers are even aware of the difficulty of such a situation and have the joke that it is easier to acquire a VISA for North Korea. After being turned away from the Brazilian Embassy again, this time because it was closed in celebration of, ironically, Brazilian National Independence Day, I was beginning to think this was true. Even more frustrating was seeing photos and posts of literally everyone else in the year already started and enjoying their year abroad.
After a couple more weeks of hassle I had finally cleaned up all the admin and was ready to book my (extortionately priced) ticket to Rio de Janeiro. Following goodbyes to friends and family I was sitting on the plane somewhere over the Atlantic smiling to myself that I was finally on my way. It would have been easier to go to the moon but I was finally on my way. Having organised to have a driver pick me up from the airport and take me directly to the hotel, I had the amusing image of a little Brazilian man in an oversized black jacket and a cap waiting for me at the arrivals gate with a placard sporting my name. However, once we had landed, I thought to myself that nothing about this experience had been so easy, so why would this be? I have learned to trust my hunches. True to from, no such driver was awaiting me at the exit. Fueled by jet-lag and frustration I rang the agency in a temper to say that my driver was nowhere to be seen. With typically superficial apologies the agency regretted that they were also unaware where the driver was. I was really trying to avoid getting a taxi on my own, with three large luggage, a questionable grasp of the language and next to no idea where I was going, but I had no choice. After trying to shout the name of the hotel and the neighborhood at an unsuspecting taxi driver I hopped in and hoped for the best. Riding in a dubious taxi, through a very intimidating city, at night, on a chaotic motorway, miles over the speed limit while the driver focused more on conversing with me about football rather than focusing on the road was not the start I was hoping for, but its the start I got. Reading stories about tourists being kidnapped and robbed of all their belongings by rogue taxi drivers in Rio, the journey was less than comfortable but contrary to my initial worries, I arrived at the hotel safe and sound. I was shocked at how far away the hotel was from the city centre, but I was safe and sound, equipped with some helpful advice from what turned out to be a very friendly driver.
The hotel itself was beautiful. It was much smaller than I was expecting, only having seven bedrooms, but it was luxurious nonetheless. I admired the view from the balcony as the moonlight shone over the lagoon and thought to myself; this year could either be like 'The Night Manager' or 'Fawlty Towers'. Only time would determine which one. The views only improved in the daylight and as I met the rest of the staff and my bosses, a French man and a Bolivian woman, a husband and wife team, I felt more positive about the set-up. However, from the get-go they had immediately realised that I had wildly exaggerated in my interview, claiming that I was fluent in both Portuguese and French. As this was a French hotel in Rio, both skills were requested, but my first bluff had been uncovered. After the first day, it was very clear that some revision was due and I especially needed to focus on the differences between Brazilian Portuguese and the European form which we had previously learned in class. Following my first day on the job I gave myself the task of learning all the words for items in the kitchen, where I would be spending quite a bit of my job. I spent the whole evening memorising the vocabulary and the next morning I was keen to demonstrate my practice to my bosses. I made a point of showing off to the female boss, who had given me a more cold first impression so I asked her to 'pass me the pot'. I was surprised by her sudden look of shock and horror,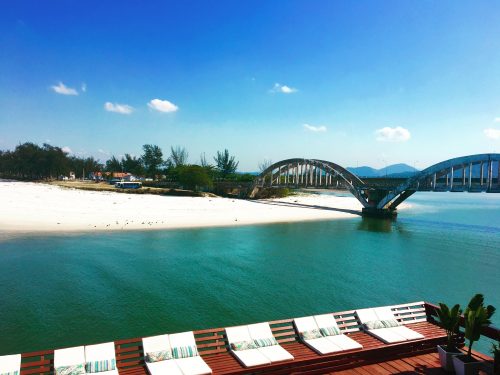 unsure what I had done. She then explained to me that I had actually asked her to 'pass the cannabis', 'maconha' rather than the metal pot for making stew, 'pote'. Mistake Number One. Don't use Google Translate, kids.
The first month on the job was very productive. My level of Portuguese had rocketed in a short space of time and I was undertaking the marketing and advertising roles which I was initially promised to be doing. For the first few weeks I was editing menus, brochures and web pages, having something to show for my work, but after the first month a cleaner was made redundant and I was asked to temporarily help out with his remaining workload. Keen to impress, I obliged but this meant that after a while I was doing noting but laundry and dish-washing. My marketing activities were substituted for menial cleaning tasks which provided little opportunity to improve my linguistic and professional skills. The hustle and bustle I was used to, working in the restaurant in Southampton was replaced by the slow, laborious service in a tranquil hotel. While most of the staff were friendly and welcoming, a few employees made a point of demonstrating their distaste of someone of my age and my background treading on their territory and impeding on their job. Even my relationship with my female boss struggled to improve and by Christmas time it was clear that this current situation was not suiting either party. I was frustrated that my working conditions and level of respect received were not to the standard originally promised and she was frustrated that me not being fluent in the native language, was causing certain communication problems with guests, especially over the phone. After Christmas, both parties went their separate ways and it was time for me to seek out an alternative placement in the country. I would strongly advise all students considering a work placement, particularly in Brazil to be 100 percent sure about the business you will be going into, your employers, your job responsibility and your role within the company.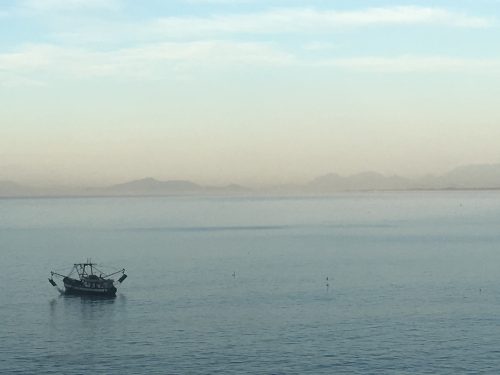 Christmas itself was a bizarre experience. I had always planned to spend the holidays in Brazil, in order to experience their cultural take on the festive period and although my housemates did involve me in their family parties and make me feel most welcome in their celebrations, the struggles I was going through with the job made me miss my family over this time. It was fascinating to experience Christmas celebrated in a different culture and I did enjoy it but it is something which definitely should be taken into consideration for anyone planning on staying in Latin America for the Year Abroad. Due to my working hours, my opportunities to socialise with local Brazilians in the opening months were slim, but I did get a number of chances to explore the Cidade Marvilhosa or Wonderful City with my three good friends from my Portuguese class in Southampton, also undergoing their placement in Brazil. New Year's Eve was an amazing example of this, were the wild side of the Rio party scene really came to the fore. A tip for booking accommodation in a major city over a big holiday would be book in advance. This seems obvious but I cannot stress it enough; otherwise you may find yourself cooped up on a sofa in a shared Air B'n'B decorated with recreational drugs and loose knives (yes, knives) owned by a couple of dodgy looking characters with controversial taste in chest tattoos. The New Year's celebrations were a success but that is the last time I will ever leave the building without remembering the security code for the door and have to wake up dodgy looking character Numero Um from his drug-fueled beauty sleep.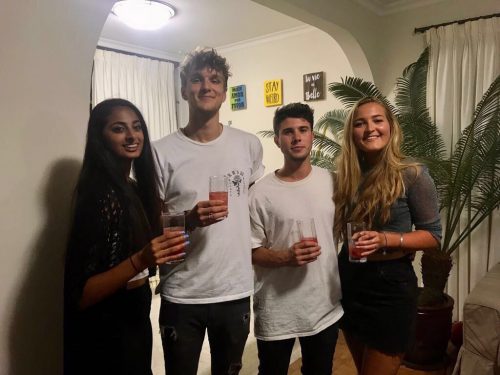 During this break, I used the time to make a start on my YA Research Project. My project was based on the social problem of crime in Rio de Janeiro. and my original plan was explore the city's favelas to try and better understand the operations and effects of Rio's criminal underworld. This sounds interesting in theory but in practice my faculty tutors made it clear that this method of research was far too dangerous and I was prohibited from carrying it out. So, I did the responsible, sensible thing and completely ignored this instruction and did what I had planned to do in the first place. The favelas are a captivating place. Terrifying and majestic in equal measure, upon entering you are hit with the explosion of different sounds, different sights, different smells. Tourists are roundly advised to stay clear of these areas, but for anyone keen on adventure and discovery, keep your wits about you and keep the common sense attached and you will have a worthwhile experience.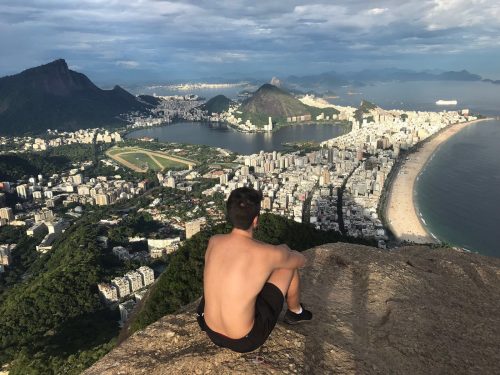 After a period of more e-mails and more reference letters, I (somehow) managed to find a placement in a university in a city in São Paulo state. There was only one vacancy for one semester for one international student studying languages so it looked like my luck was taking a turn for the better. After a few weeks back home to catch up with family and escape the oppressive Brazilian summer heatwaves, I flew back out to complete the semester in the university. It was never my plan to spend my Year Abroad studying, but in truth the Monday to Friday schedule is much more forgiving for anyone who is eager to experience the party culture, to meet other young people and to travel around. While in Rio, literally nobody spoke English so I was forced to immerse myself in Portuguese, while in the uni city, Araraquara many of the students are keen to use you to practice their English, which is great for your social life but less great for your language learning. Swings and roundabouts and all that. The general rule of thumb is; if you are more concerned about improving your language proficiency, an internship would probably be the practical option. Although, if you are someone who would prefer to have more free time to socialise, see the sights and sip on sangria, a study placement would be right for you. The 8am starts don't take too long to get used to.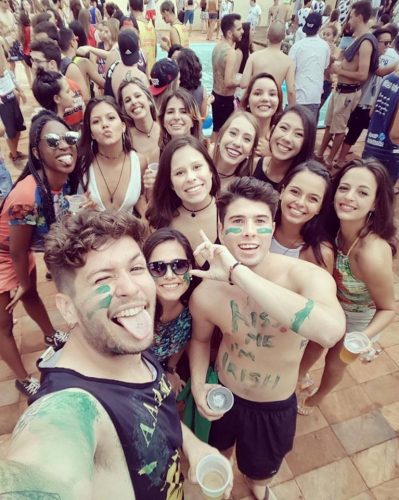 During my Year Abroad I met many phenomenal people and saw many phenomenal places. To risk skating along the cliché, your time really is what you make of it. And one more thing, the local delicacy, the brigadeiro, is a delicious chocolate snack which you should really try, but buy it in a café. If the beach vender tries to sell you one himself, while also trying to flog a knock-off speaker and a pair of novelty sunglasses, just wait until you reach the café. Trust me, it will ruin your day.
Remember kids, Brazil is amazing, diverse, colourful, exuberant. But is not for beginners.