---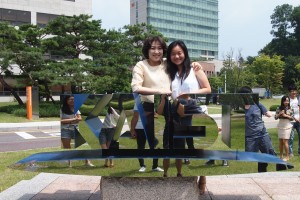 I have just finished a month of summer school in Korea Advance Institute of Science and Technology (KAIST), Daejeon – that's the MIT of South Korea for you – and now I will do my best to recap the whole experience.
Earlier this year I figured I wanted to do a short exchange programme in the summer and KAIST happened to offer a course in entrepreneurship, something that I had been interested in for a while. I was also excited about meeting new friends and experiencing a new culture. So the adventure began…
KAIST main campus is located in Daejeon, South Korea's fifth largest city. The city first developed as a research centre for innovation in the 1960s, which is now known as the 'Daeddok innopolis' area in the city. High class research centres such as ETRI and SATREC-I is a part of it. Hence, it is only fitting that the leading university in research and innovation is located in Daejeon.
The campus itself is quite large, comprising the faculty buildings as well as halls of residence complex.  The campus boasts On-line Electric Vehicle (OLEV), which was developed by its alumni, by implementing it on the campus' shuttle bus. The area is self contained with many cafeterias, gym, sports ground and other facilities spread around the campus. There is a cheap eating and shopping district just next to the campus.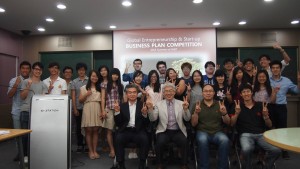 In the Global Entrepreneurship course, I was introduced to the basics of entrepreneurship and business planning. In addition to that, I learned that South Korea is a country that strives to excel in technology and innovation. That is why the course focuses on training the students to start a technology based venture.
The course was assessed by a series of tasks which help the students to conceptually invent a technology based solution to daily life problems. The final project is to make a business plan out of this idea and present it in front of real entrepreneurs from KAIST. My group finished third out of six group and we earned ₩30,000 as a bonus! (That is about £20, hehe.)
The course lecturer, Professor Song, arranged two field trips during the course of the programme. I had the chance to visit two of the most sophisticated technology centre in South Korea. The first one was Electronics and Telecommunications Research Institute (ETRI), where researchers invent cutting edge technologies that help better the quality of life. Entrepreneurship then comes in to make the products available to the market. The second one is a venture company Satrec Initiative, which is a perfect example of a tech based venture that has successfully entered the stock market.
Besides the entrepreneurship course, I also took a compulsory Korean Language class every morning. I had fun learning Korean because the teacher, Professor Lee, was really lively and we had plenty opportunities to practice there – especially when bargaining in the markets. I have to say learning the language was essential; it makes the exchange experience more fascinating!
South Korea is famous for its traditional culture, food and nightlife. I visited 'Shilla' theme park on a field trip, where I could see a life-size replica of a traditional Korean village and experience Korean society's way of life in the ancient times.
Korean food culture includes an array of side dishes, sharing culture and spicy chilli sauce. Whether you're eating with your friends, family or professors, we always share the food. On a night out my friends and I usually have drinks over barbeque and karaoke, we couldn't get enough of that!
Most of the people, especially the older generation, do not speak English; but they are very communicative and kind towards foreigners despite the language barrier. They are friendly and they put all their heart into what they do.
I came to South Korea with low expectations; I left it with plenty of knowledge, a good insight of South Korea's culture and so many new friends. It was enjoyable and indeed unforgettable.
Summer School in KAIST, South Korea