---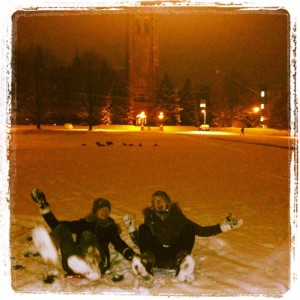 After a busy few weeks I have made amazing memories and seriously dented my student loan. As coursework deadlines loom and mid-terms grow scarily close a few friends and I decided to give ourselves a break from the books and head to Toronto. Toronto is a city like no other. The sky line is filled with epically tall, glass skyscrapers surrounding the one time biggest building in the world, the CN tower. On a sunny day words cannot describe the view as the sunlight bounces of the glass and fills the wide busy streets with light. Toronto offers something for everyone with a fashion district, entertainment district, financial district, china town, beaches, old town and many more streets to be discovered. With only a weekend to explore my friends and I headed to China town where we tasted authentic Chinese cuisine and sampled vegetables that we never knew existed. After filling up in china town we explored the vintage shops of queen street – the hub of the fashion district. Offering vintage and restyled clothing it was hard to resist the lure of the unique clothing the shops had to offer. After pounding the streets of Toronto we decided we deserved a few drinks and a bite to eat.
Though Toronto offers food from every cuisine we couldn't resist the lure of the Canadian speciality pulled pork poutine – a Canadian must-eat! Before returning home we headed to Lake Ontario, one of the 7 Great Lakes in Canada. Across the water tree lined islands can be seen which offer stunning views of the city at night. Unfortunately our time in Toronto ended before we had the opportunity to experience all that Toronto has to offer, however, that gives us an excuse to return again.
As we returned from Toronto the reality of midterms hit. Like many UK universities western uses an online resource, OWL, to aid students studying. OWL provides students with details of the course, assignments, readings, lecture slides and lecture recordings; ensuring that students can effectively manage their revision and assignments. Though the workload has hit fear not, in between the work we find time to play!
Poutine, shopping and the Wonders of Toronto