---
This is my first blog post (a little late!) while on my semester abroad at Penn State University. Since I am now near the end of my time here, I am going to try to summarise all the highlights. So here we go…
After jumping through multiple hoops and completing a pile of paperwork as high as Mt. Nittany, all my documentation was in order and I was all set to travel to the United States. I'm not going to lie I was a little scared the days leading up to my flight. I had never travelled such a large distance by myself before, let alone the fact I was moving to country where I knew absolutely nobody. But as soon as I stepped on the plane, I knew I would have the best experience of my life.
My American journey started in New York City where I spent the night before travelling to State College (where PSU is located). Of course, I had to fit in a little bit of sightseeing on my first trip to the Big Apple. I have to say I don't think it hit me that I was in USA until the next morning, where I passed a lady with the thickest Brooklyn accent I had ever heard, yelling certain words that I cannot repeat down her phone!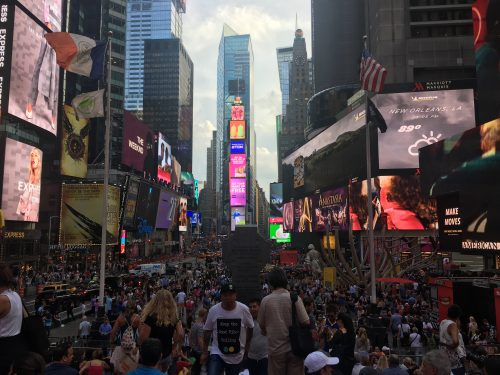 So, after a 5-hour coach ride to State College I had finally arrived at the place that I would call home for the next 4 months. My first impression of Penn State's University Park campus can be summarised in 4 words: "wow this is massive" and "massive" does not even do it justice. With the first 2 weeks being reserved just for international students' campus was extremely empty and after finding out that the orientation session for exchange students occurs at the back-end of these two weeks, I quickly found myself with nothing to do, stuck right in the middle of Centre County PA. So, I did the only thing I could do, I set about making friends. I quickly met several other exchange students with nothing else to do and because of our large amount of free time, the group quickly bonded. This 2-week period honestly felt like we were living at an all-inclusive resort, with the amazing weather, the top-end sports facilities and a buffet that was open for all 3 meals of the day.
However, the beginning of the semester quickly fell upon us and with it came the American students as well as the avalanche of workload. I'm not going to sugar-coat it; the American college system loves piling work on you. It's fair to say that not a week has gone by where I haven't had some sort of homework deadline, quiz or midterm. Saying this I feel like I should mention the fact that the difficulty of this work is a little lower than what we get in Southampton, due to the fact that it is so frequent.
But of course, I wasn't going to let this get in the way of my opportunity of a lifetime.
Within the first month I was off on my first road trip. During the Labour Day weekend, we headed to Philadelphia for the Made In America music festival. With headline acts such as Post Malone, Nicki Minaj, Meek Mill and Kendrick Lamar in town, the city was buzzing. After the two-day festival ended, we spent a day exploring the historic city of Philadelphia. We did everything, from visiting the iconic Liberty Bell to eating at the birth place of the world-famous Philly Cheesesteaks.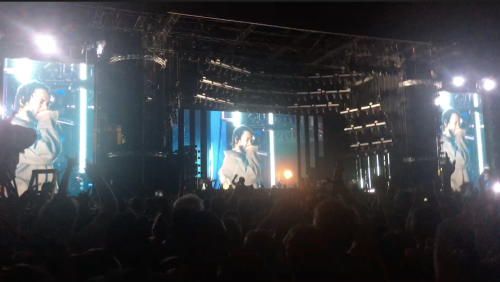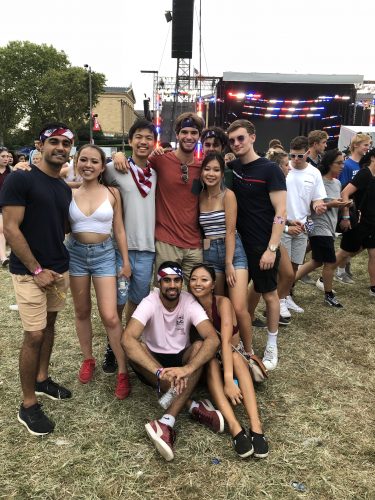 Even after Made In America, the concerts didn't stop there. Artists such as Joey Bada$$ and T-Pain came to campus to perform a pair of free concerts. And then a few weeks later I went to a sold-out J Cole concert that he performed at Penn State's basketball stadium.
Of course, I couldn't attend an American University and not immerse myself in the culture of college sports. Penn State is a school that is very proud of its sports teams, especially its football (the American kind) team. Our home stadium, Beaver Stadium, is situated on the eastern part of campus and has an official capacity of over 106,000. That makes it the 3rd biggest stadium in the world. And being the third being stadium in the world creates some of the most electrifying atmospheres I have ever experienced. Going to a Nittany Lion home game is like attending an all-day party. The day starts off with the famous tailgating. For those that don't know, this is where the surrounding area of Beaver Stadium is packed out with what is essentially over 100,000 fans having BBQ's with their friends and families – the place truly is buzzing. This party then moves inside the stadium once the game starts, and the time flies by.
I attended most of the home games; however, a stand out was our game against Ohio State University. A little background info here: we HATE Ohio. With the game being what was called a "white-out" game (where the entire home crowd wears white), and it also being nationally televised during primetime on ESPN, being part of the crowd was honesty one of the best experiences of my life. Unfortunately, we lost the game 27-26 after a questionable 4th and 5 play call, but that's all I'll say since thinking about it hurts too much!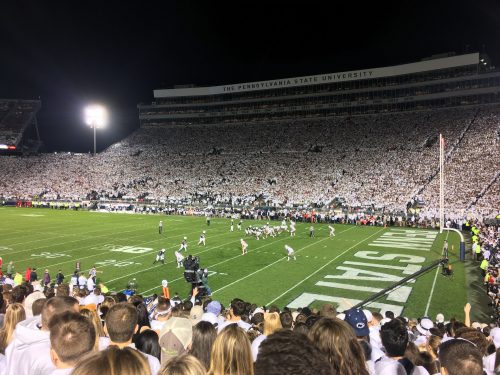 So that summarises my first few months here at Penn State. Football, concerts and a little bit of studying in-between. I'm pretty sure that I'm doing college right.
P.S. If you have questions about the study abroad process (or anything else) I'll be more than happy to help. Feel free to email me at: gv4g16@soton.ac.uk
My 4 month Penn State adventure