---
Where do I begin…my year abroad in Brazil was INTERESTING, I learnt a lot about myself and Brazilian society but I wouldn't want to do a disservice to future Year Abroad (YA) students by saying it was all a bed of roses or …caipirinhas because it was far from that.
Disclaimer – this was my third time in Brazil so I wouldn't say I was a newbie to the country, I had already built up a tolerance to some of the 'interesting' things that go on in Brazil. A lot of people asked why I chose Brazil and not another country. The simple reason is that Brazil is such a beautiful country filled with friendly people. I knew if I went to Portugal or any other European country I wouldn't get that same vibe. One of the benefits of going to Brazil is that people don't speak as much English as they do in Europe so you are forced to speak Portuguese, which they really do appreciate.
Despite this being my third time in Brazil I was still nervous heading back out there; you never quite get used to the humidity. Luckily, I arranged for my host family to come and pick me up. So, fortunately, I don't have any stories of getting into any dodgy taxis. All in all, it was a very smooth journey from London to Brazil.
I opted to stay with a family because I wanted to speak as much Portuguese as possible and integrate myself into my new Brazilian community. And I did just that. They didn't speak any English so we spent the whole time speaking in Portuguese it was great having someone who knew where the local post office or supermarket was. Some host families can be insufferable, imposing strict rules and questioning you on your every move – but lucky for me I didn't have that issues, I was given space to do whatever wanted (within reason of course).
Having settled in nicely into my new home, the next challenged was registering for university and starting my classes. I knew from the YA talks that universities abroad would be 'different' but I was not ready for my university in Brazil – UFMG. As I walked onto the campus, the first question that popped into my head was 'have these buildings been completely constructed'? It very quickly became evident that I was no longer in Avenue Campus, Southampton. Despite the rustic feel of the university and the lack of clean bathrooms, it certainly did not lack in character. The walls were covered in Banksy-like art and political statements, everyone's political position and opinion were documented – staring at the four walls had never been so interesting. By some miracle, I manage to get my documents in order without having to wait 7 hours to get my CPF  (an identification number that is necessary for pretty much anything useful) as other students did. The biggest challenge in my Brazilian university career was adapting to the timetable. At UFMG, classes normally start as early as 7.30 am and finish as late as 10:30 pm, and I was lucky enough to have classes in the morning and well into the evening. This long day, however, is quite useful for Brazilian students as a lot of them work and study at the same time, but for me, it was testing especially as the semester started in August when all of my friends back in the UK were living their best lives.
UFMG was not the same as British universities in the sense that they didn't have societies like we normally would. This meant that making friends was slightly more difficult, especially in the beginning. However, through a good friend, I found a gospel choir that became a second family to me and shaped my YA. Getting through the door was no easy feat; I had to audition in Portuguese. At that moment in time, I didn't know any Portuguese songs, so it was a challenging remembering the lyrics let alone the melody or harmony. Nonetheless, I got in! Singing as part what grew to be 250 voices, really helped my Portuguese not only because I was learning new songs and performing every week but also because I had more people to get to know.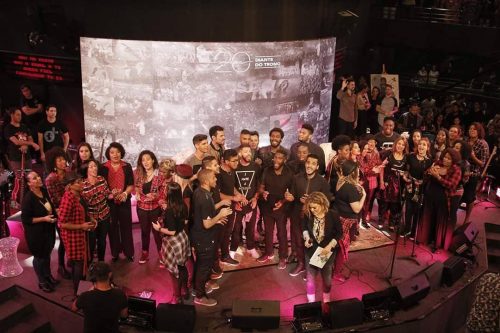 I would say the highlight of my time in the choir was singing a solo as part of the Christmas concert, in front of over 1,000 people. It was the first time the choir heard me sing, and to receive such positive feedback and support was very encouraging.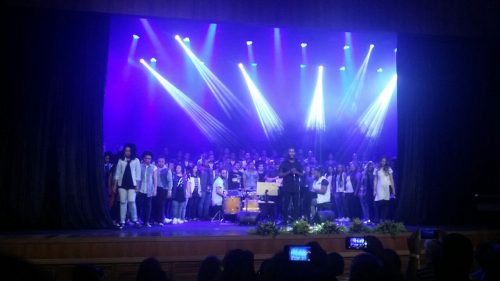 Christmas was a very strange time period. First thing, it was HOT…in December that really freaked me for a while but then I finally accepted where in the world I was. I chose to stay in Brazil instead of going home because I wanted to spend as much time as I could in Brazil, plus the expensive flights did not help. I spent Christmas with a close friend's family; they had a different tradition of meeting in the late evening on Christmas Eve and celebrating well into Christmas Day. We ate, play games, laughed, danced, sang, and ate some more – it wasn't quite your average Christmas roast but they had rice, beans, and a plethora of meat.
One of the benefits of going to Brazil is the travel opportunity. There is just so much to see but it's hard to get it all in during the holidays. Lucky for me this was my third crack at it, which meant I had seen a lot of Brazil already, but I had never been to Minas Gerais before. Wherever you go in Minas Gerais, someone somewhere is talking about Ouro Preto and how amazing it is. For those of you who don't know the city (which included me), it is a former colonial mining town located near Belo Horizonte with lots of beautiful old churches. A few friends and I went on a road trip to this colonial town – I must say I was extremely scared to be in the car with another student, but we didn't die so that's something.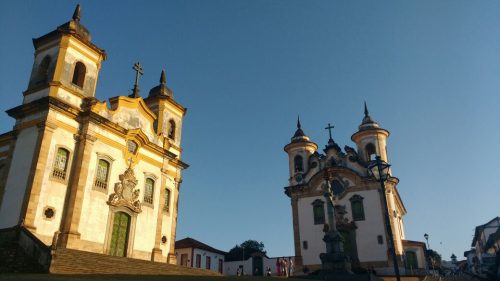 Another memorable trip was to Rio de Janeiro – the city in which everyone thought I was studying. My sister came to visit me and spend some time getting to know the city. It was amazing showing her around the city and showing off my Portuguese and how far I had come. I even persuaded her to come hand gliding with me, which I must say isn't as scary and it looks!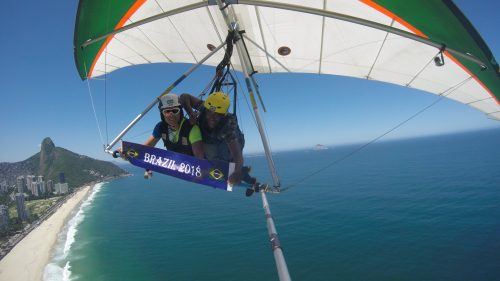 This wouldn't be a reflective piece (de verdade) if I didn't give my two centavos, you know what they say "it is easy to be wise after the event" so let me impart some of my wisdom.
TIPS/LESSONS
Get an account with Starling Bank before you leave the UK – it's a digital, mobile-only 'challenger' bank that essentially means they don't have any physical branches open but you control everything on your phone. This saved me so much time and money; I didn't have to waste time opening and closing a Brazilian account. It works like a normal UK card but they don't charge you to withdraw money or if you use your card in shops, restaurants etc.  Also, the exchange rate is a lot better than pre-paid currency cards like Caxton FX who take a cut when they exchange your money. Monzo is also a similar bank but they recently introduced a cap on the amount of money you can withdraw abroad for free.
Check if you are eligible for a travel grant. Student finance offers a means-tested travel grant, which allows you up to three returns flights to your YA country plus travel to and from your university. If you receive a maintenance grant or are at the top end of the student maintenance loan then chances are you will be eligible.
Don't panic about accommodation. In Brazil, most people didn't find a place until they actually arrived in the country. Lots of people advertise through Facebook groups, so ask around and you will eventually find somewhere. Be sure to visit the place with a friend, and don't hand over any money before terms have been agreed (in writing preferably).
Say yes to everything (within reason of course and in line with your principles). I know this sounds cliché but it really does make a difference, try to push yourself past your comfort zone. Get stuck in. This is so important, especially for improving your language skills and confidence. If you can establish strong links in the community you will most likely practice your language more.
Take it on the chin. Whilst we cannot generalise, Brazilians are for the most part very vibrant, physical and vocal people. They will not be shy in telling you what they think about you, whether that is that they find you awkward, timid, or that your Portuguese is good/bad/better than John's. Just smile…as I did, but of course if they have offended you do let them know.
Tell everyone your interests. If no one knows your interest you can't expect to find people with similar interests to you. More often than not, someone knows someone who knows someone else who enjoys doing what you do, so a quick way to find out is by speaking to people.
Comparison kills. Don't do it. Don't compare your language skills or YA experience with anyone else's. I could write a whole other blog about this topic, but it's so important to 'stay in your lane' and run your own race. We all have different levels and abilities just focus on being the best that you can be and developing your skills. With regards to YA, people tend to only show the best parts of their time abroad, and that's mainly because of the crazy idea that your YA is supposed to be a life-changing, amazing year. But the truth is that for many, it's just a normal year with some nice scenery and fun memories; and for others, the YA can be a time of isolation, homesickness and anxiety. So just try to have the best experience you can and not focus on what Becky is doing in Peru.
Don't be so tough on yourself in terms of language development. Another wild myth is that by just being in another country you will be fluent – this has meant that a lot of 2nd-year linguists think that they will return from their YA with native fluency. While for an exceptional few, this is the case, for the vast majority it isn't – normally your listening skills and fluency improves a lot but not perhaps to the level you may have expected. And that is okay. Try not to criticize yourself too much. This is also the case with accents, we will always be who we are and this sometimes comes across in our accents. Don't be ashamed if you have a slight British accent when speaking a foreign language, just focus on being understood and gauging the 'melody' of the language.
Be intentional with honing your skills. If you want to make the most out of your year, I would say stay on top of vocabulary and grammar. Why not change your Netflix language to German, Spanish or Portuguese. These changes will help you with long-term retention and enable you to easily recognise the practical application of what you are learning.
If I could sum up my experience in one photo I would choose this one because it encapsulates the amalgamation of fear, excitement, stupidity and beautiful scenery that characterised my time abroad. But this picture is especially accurate because I actually wanted to jump off a cliff at various points during my YA particularly whilst writing my dissertation but that survival story is for another day. Let's just say, plan ahead kids.