---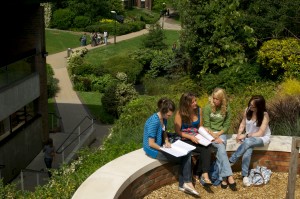 On Thursday 31st of October between 11am and 3pm in Garden Court (Building 40), the International Office will be holding an Exchange Fair to inform students of their exchange opportunities and promote our worldwide partner Universities. Students will also have the opportunity to register their emails to receive more information on the application processes in order to start their exchange journey!
How will it work?
Students will be greeted by International Office at the welcome desk near the entrance to Garden Court. Students will be able to pick up a Partner University Reference Sheet depending on which Faculty they are in. There will then be a list of Universities with which the University is partnered with in particular areas of study. They may be University-wide links (open to students across the University), Faculty-wide links (open to students within a specific Faculty) or Academic Unit links. Members of staff will also be on hand to answer questions on exchanges, funding and scholarships.
Students can also register at the welcome desk by completing a short information slip. All full degree students who register will be entered into a prize draw for a £50 Amazon voucher.
Once students enter the fair they will travel round the globe, visiting different countries. Each country stall will be manned by student volunteers. Some of the volunteers are incoming students from our partner Universities and others are University of Southampton students who have been out on exchange. Each table will have more information on our partner Universities and also the culture of that country. The aim of this is for University of Southampton students to meet our incoming exchange students, be informed of their exchange opportunities and also to engage in the International student community at Southampton.
Who else will have a stand at the fair?
AIESEC Southampton, Careers Destinations, British Council Teaching Assistantships and the Erasmus Student Network will all have their own stands at the fair.
What happens after the Fair?
All students who register at the welcome desk will be sent a follow-up email after the event to inform them about information talks within their Academic Unit. These information talks are usually led by the Exchange Coordinator and the International Office to give students information based on their area of study. There will be information on how an exchange can fit into specific degree programmes, which courses students need to take and how they can become nominated and apply to go on an exchange.
How can I find out more?
Any questions you have can be directed to Ms Cleome Dakin on studyabroad@southampton.ac.uk
You can like our Facebook page or follow us on Twitter for regular updates.
Join the Facebook event here to keep it in your calendar: https://www.facebook.com/events/219067601586618/
Overseas Exchange Fair – Discover a world of opportunities!