---
One benefit of going to university in North America is that there are lots of big name tours, presumably due to the massive number of fans and potential audience here. I was lucky enough to see Travis Scott's Astroworld tour in Toronto a week ago with a few friends!
After killing some time in some bars we made our way to the Scotiabank Arena where it was being held. Unfortunately, you weren't allowed to take any bags into the show so I had to wait in line for about 30 mins to drop it off – very glad that we left some time for flexibility! Sheck Wes was the warm up act and he put on a great show, with some incredible energy. We were seated but we could see people getting battered in the standing area from all the moshing. Travis' set was incredible, and even included two roller coaster rides! One of these went right over the crowd's heads, and Travis performed some songs whilst riding it. Afterwards, fans got the opportunity to go on it themselves! Highlights of his set were Butterfly Effect, Stargazing and ZEZE , all of which sent the audience wild.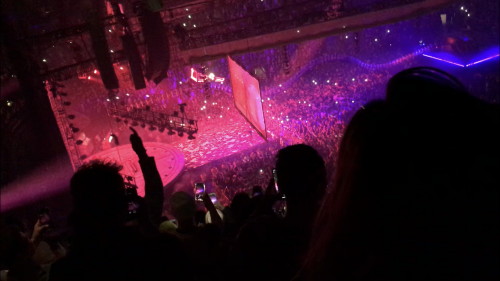 Anyway, this is not a music blog so I won't dwell too much more on the concert itself. The point of this post is to encourage you to look up concerts in nearby cities. I'm a big Travis Scott fan, but I actually stumbled upon the tickets while just doing a generic search for concerts nearby – you never know what you'll find! Maybe your favourite artist will be performing nearby. These concerts can be a great experience which you might not be able to get in England, and I would encourage you to take the opportunity and see if you can see a show whilst Studying Abroad!
Travis Scott in Toronto – see if there's any concerts near you!