---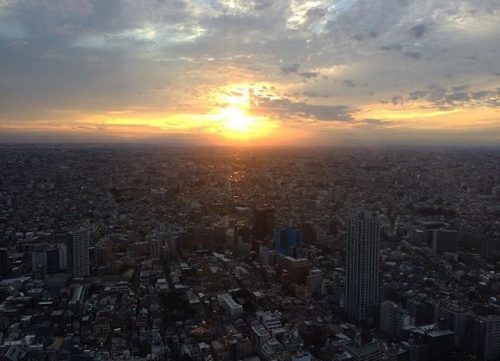 I've recently come back from my year abroad in Japan, studying at Keio University in Tokyo. It feels like the past year has been a dream, and I've settled back home like I've always been here and never left, and this is the hardest thing about doing a year abroad: leaving. But there are so many reasons to go, and there are so many fantastic things that I look back on when I think about the past year.
NEW CULTURE
When I decided to go to Japan, my decision had nothing to do with the university or my course. It was about the fact that I could live in Japan. Japan is a country with an interesting image in the West, and whenever I tell people I was in Japan, or that I was going last year, I get two reactions: 'wow, Japan! I'm so jealous, I have always wanted to go!' and 'Japan, why Japan? Isn't it weird and too different there? Why not somewhere in Europe?'
But if you're going for a year, in my mind, further is better. Different is the best and is part of the experiencing of a new culture.
Being away for a year means that you can understand the culture and history of that country. Japanese people have the stereotype of being shy, kawaii (cute) and polite. But being there as a resident rather than a tourist, you can see more of the Japanese social mind and what it is that makes them 'shy', 'cute' and 'polite' in a deeper way. You can understand the culture, as opposed to merely seeing it for a week or two. You see that national identities are so complex, wherever you go, and experiencing a culture in a deeper way like this makes you more culturally aware and understanding and is a skill you can apply to anywhere else you will go. In a way, you kind of become novice anthropologists.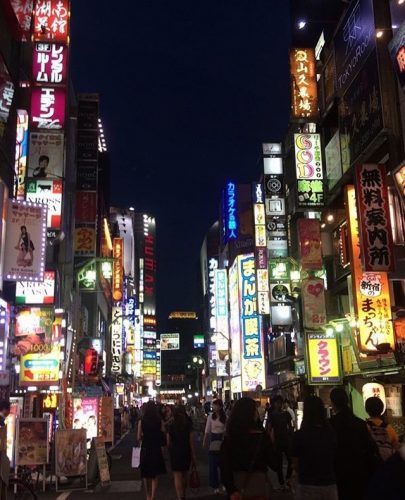 I took beginners classes in Japanese and, as an English student, learning about the language was one of the most interesting and engaging things for me. You can see how languages and the social personality of a country are interrelated. For example, Japanese people can be polite and reserved, and they put their consideration for other people before their own interest. Japan is a very collectivist society, unlike the UK. The Japanese language is one of the languages with the smallest vocabulary, and it is generally a less expressive language.
The things that seemed to be weird, different, overwhelming, all become normal and part of the background the longer you are somewhere. When I first went into central Tokyo, I was overwhelmed by the lights and the number of people, and I kept thinking back to photos I'd seen of the city, amazed at how real it all was. But it all starts to become normal and homelike to you, which is so comforting.
PERSONAL DEVELOPMENT
Personal development was a huge factor for me and is one of the greatest things I gained from my year abroad, for numerous reasons.
Before leaving, I was convinced that I wanted to a be a travel writer, and I would take my year as an opportunity to develop that, but I realised that I definitely do not want to do that. Being away from home, doing something not directly related to my degree, meant that I had more time to think about the things that truly mattered to me, and I realised what my interests were. So, from a practical perspective, I gained a lot from being away.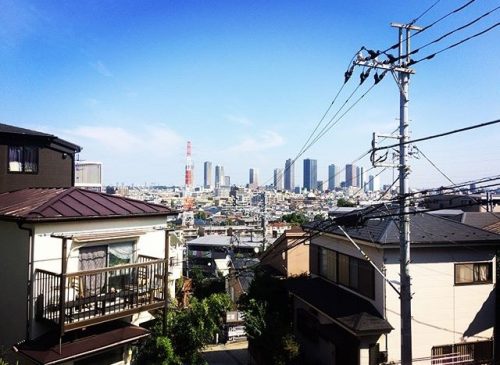 You do become stronger and more independent, especially if you are somewhere like Japan where you do not know the characters/ alphabets, let alone the language itself. You really push yourself out of your comfort zone. I remember my first week when I went out to buy a router for my room, and the currency meant nothing to me, I had no idea what anyone was saying to me, and I relied heavily on Google translate. I couldn't go anywhere alone, not even to my classes, out of worry I'd get on the wrong train and I wouldn't be able to figure out my way. I was texting my mum constantly for about two weeks. Then one day it clicked, and I didn't need to her there for that high level of reassurance (and then she didn't hear back from me until a week before I came home, and I was demanding a list of food I expected for my return!). By the time I left, I was going everywhere by myself, I didn't need Google maps or translate, I could read enough Japanese to get by day to day, and if someone spoke to me in Japanese, though I couldn't necessarily converse, I could understand what they were saying to me. You realise that you really can live anywhere and the world, although it is a big place, it's also small and you can survive, there's no need to fear difference or change.
FOOD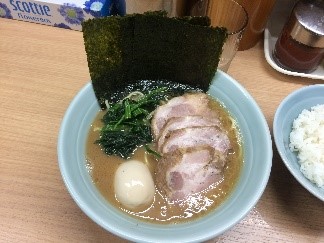 So this is one of the BEST things. It will also be one of the most difficult things to cope with when you go home too. Eating out in Japan can be super cheap, and a bowl of tempura can cost you £3.50, which is fantastic!
There are so many different ramen restaurants in Japan, which was also cheap, so you can try different types of ramen too, and you do realise that it isn't all the same. There's a sushi chain called Hamazushi and has the cheapest sushi (70p for a plate!). We really made the most of that! The more expensive a sushi place is, the better the quality. We had a number of sushi restaurants that we'd go to depending on how much money we had at the time and what kind of atmosphere we were after. At another restaurant, the kitchen was in the centre with the tables and conveyor belt around it. Each evening, the chef would do a kind of show, and pull out a fish fresh from the freezer, and would gut it and prepare it in front of you, and the waiters would commentate through microphones as if it were a game show. I thought this was great and entertaining, my vegan and (temporarily not) vegetarian friends did not share the same opinion!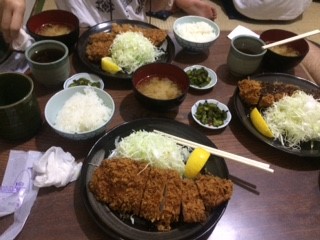 You end up choosing your own local places where the waiters know you and know your order too, which really helps to settle in and call a new place 'home'. There was a local ton katsu restaurant, and there was one chef there who spoke English, and so whenever my friends and I would go, he would take the opportunity to practise his English and he'd serve us or translate the menu for any non-regulars who we brought along with us.
You do miss home comforts, and my dorms didn't have real ovens (we had some weird microwave-oveny thing that seemed to undercook on one side but burn on the other – I gave up with it) so I couldn't make everything I wanted to. But you do learn to adapt. And you can make do with what you have and make the closest thing you can. In Japan, there is a chain called 'Hub' which is Japan's take on a British pub. Of course, it wasn't quite the same, but it was had that Wetherspoons feel to it (except it was cleaner and not sticky on the floor or on every table!).
It's not only about the Japanese food, but you get to experience other food from the friends you make. For Christmas, most of us stayed in Japan, and so we made a big Christmas dinner, and all cooked something from our own countries. We had Yorkshire puddings, pigs in blankets, and we also made scones. One of my friends made a roulade, and we had food from Malaysia, Poland, Portugal, Indonesia, France, etc.
Warning: you will become a food snob when you come home (no one take me to YO Sushi or Wagamama please.)
TRAVEL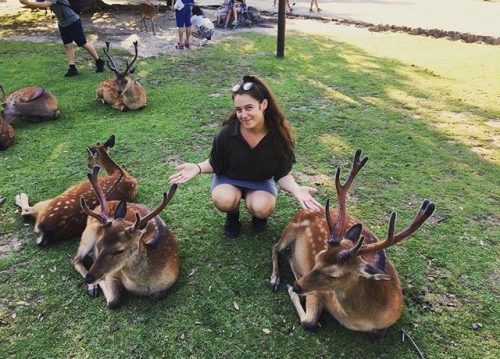 This is one of the most appealing reasons for doing a year abroad! Wherever you go, you try to make the most of where you are, and all of your money will go on travelling and you will come home with next to nothing. I didn't travel around Japan as much as I would have liked to, but I did get to experience different parts of the country in all of its seasons. I went to Kyoto in the Summer which was SO HOT, almost too hot! I went skiing in Hokkaido in the Winter which was absolutely fantastic and I would recommend to anyone! The snow is incredible and the slopes are so quiet.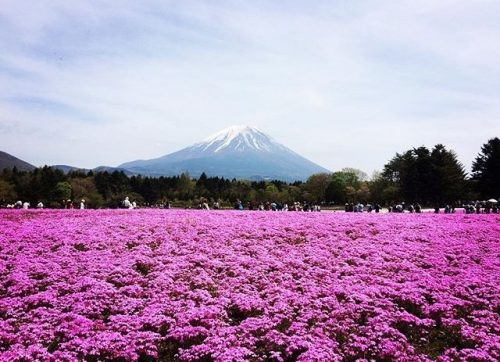 But the colours of the seasons are the most beautiful thing in Japan. The red trees the Autumn are beautiful, and the cherry blossoms in Spring were lovely too. During Spring, the parks are full of people sitting around the trees picnicking and day drinking, and the atmosphere is great.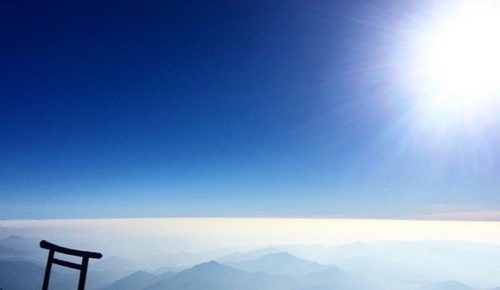 I also got to climb Mount Fuji which was hard work, far too busy, but had an incredible view from the top and was a great way to end my year in Japan.
You also get to travel elsewhere too, so I went to Taiwan, Thailand, Malaysia and Singapore too. It's so easy to plan trips, as everyone else wants to travel and go to the same places as you, so there is always someone to go with. Or, you can do it solo, which isn't as scary as people think.
FRIENDS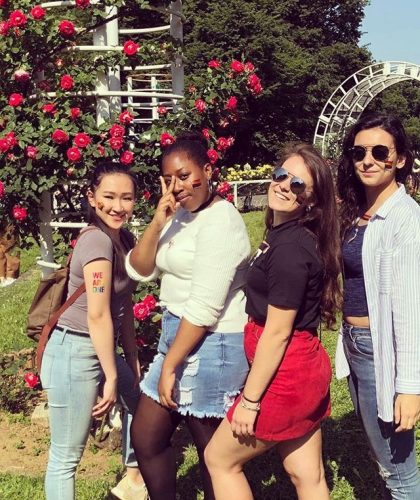 Finally, I made some of the best friends on my year abroad. I became friends with people that I probably wouldn't meet at home for whatever reason, and it's great because you do meet people that are different to the kinds of people you might stick to at home. You make great friends from all across the globe. You also get along with people and spend a lot of time with people in that space, but those friendships may not extend past your year abroad, but that also isn't necessarily a bad thing. It means you make the most of what you have, and your ideas around relationships and people do change, and I think that's something amazing.
I made some life long friends (I hope) that I will certainly be seeing again, but I also had some short-term friendships. For example, I joined the bouldering circle, and we went on a ski weekend which was so much fun and it was absolutely brilliant to spend time with Japanese students, and was one of the best weekends I had in Japan, and the friendships made only existed within that circle of people and inside that time frame.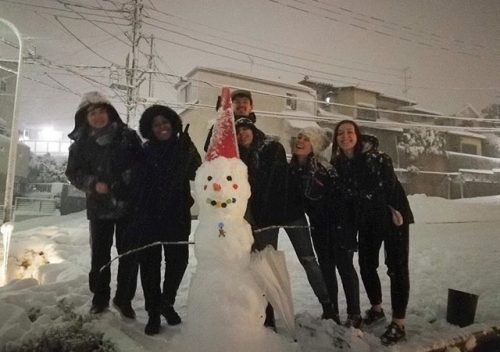 You could tick off everything on your bucket list on your year abroad, but it is the memories you have with your friends, and the friendships you make, that will be the longest lasting memories. You spend a whole year with these people in a new environment and you are all in something together, feeling the same things, and it's something amazing. This is what makes the year abroad, it's what made mine.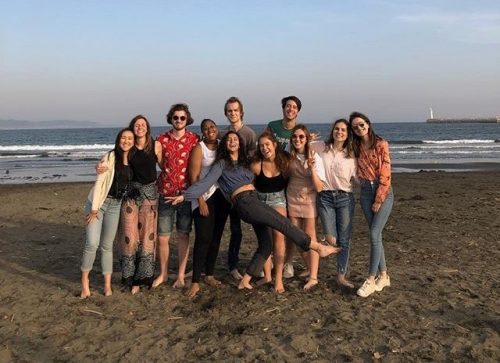 Top 5 Reasons for going on a Year Abroad