---
Happy New Year! Wow, I've been late for these monthly posts before, but never a year late…It's been a hectic December to say the least; hurricane Irma pushed the semester back to December 20th here at UM, meaning that the last three to four weeks after Thanksgiving was a mad dash to the finish that seemed to stretch on impossibly while still piling on more work. And after that, my family arrived in Miami, sweeping me off on a whirlwind of a roadtrip for ten days back home to Houston. So really, it wouldn't be lying to say I haven't been home since last year.
That being said, I managed to squeeze in two weekend trips for two separate societies I was a part of before the crush of deadlines tried to get the best of me. One of the best things about Miami is definitely the amount of stuff that's always happening around here – and the lovely beach-worthy weather that can be found year-round while in the Sunshine State certainly helps!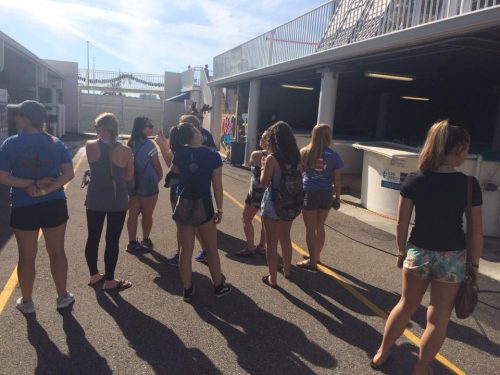 As I've said before, a big part of enjoying a year abroad is joining new societies. This is really good for keeping homesickness at bay; clubs keep you busy meeting new people and doing really cool things that you might not have had the chance to do before, so there's less time to be spent moping around thinking about what you could have been doing back home instead. While at UM, I joined a bunch of marine biology related societies – UMScuba, MMRT (Marine Mammal Rescue Team), and Rho Rho Rho, the marine science honours society.
As far as I can tell, societies typically organise some kind of 'fall trip' near the end of the semester to bring everyone together for a weekend, before the exam season descends on our heads. Each society tries to come up with something slightly different – UMScuba, the scuba diving club here at the University of Miami, traditionally organises a weekend-long diving trip complete with camping and marshmellow roasting around a fire, while the Aquarium Club is reportedly obligated to visit a different aquarium every year, owing to the specific phrasing in their referendum. In the first week of December, I went with the Marine Mammal Rescue Team to the Mote Marine Lab, upstate in Sarasota, Florida, and Clearwater Aquarium, over the course of the weekend. The weekend after was organised by the marine science honours society Rho Rho Rho, and involved snorkelling/diving in the magical Disney Epcot Aquarium, as well as a chance to swim with manatees at Crystal River.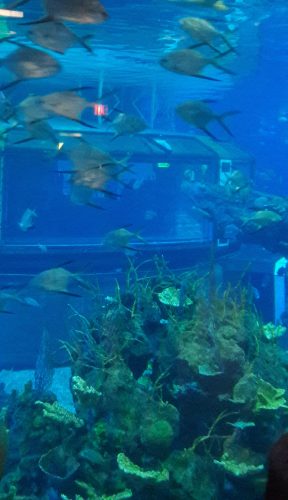 One of the best parts about the fall trip for UM societies is how cheap they are – I paid nothing extra for the first trip with MMRT, and only $15 for the Rho Rho Rho one, probably because Disney can burn a sizeable hole in any wallet, even a popular society's. I would have also signed up for the UMScuba diving trip if I could, but the dates clashed with the MMRT one, and since I would have had to pay extra for diving gear, I took the path of least departure from my cash and chose the Mote Marine Lab.
Other perk of going on these fall trips with the societies: they usually involve some kind of backstage pass, or tour of the facilities. As a part of the Marine Mammal Rescue Team, fall trips are organised to give its members opportunities to see how rehabilitation facilities work, what procedures are carried out, and chances to inquire about internships or career-related advice in terms of marine mammal research or care. One of the highlights of the trip was getting to see the Bone Room at the Mote Marine Lab, as it was nicknamed by our guide; a room covered in boxes filled with the skeletons of biopsied dolphins that had stranded on the coasts of Florida. It may sound morbid to be excited by such a collection, but biopsies on marine mammals are one of the best and only ways marine scientists can find out about these magnificent animals, and storing their bones means it is possible to build up a record of dolphin sightings over time. The skeletons can also provide real-life examples of the kinds of injuries dolphins sustain, which is really helpful if a dolphin that has stranded and died recently has the same kinds of wounds or bone damage.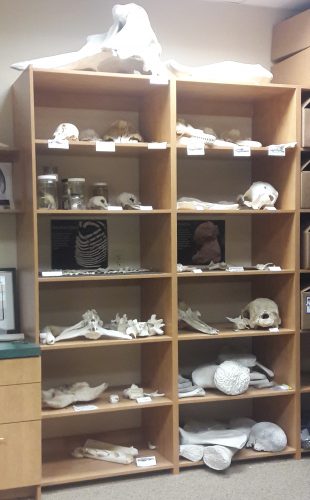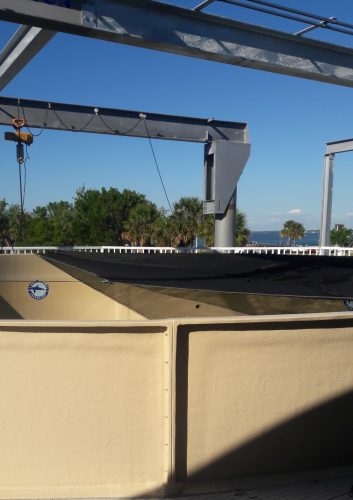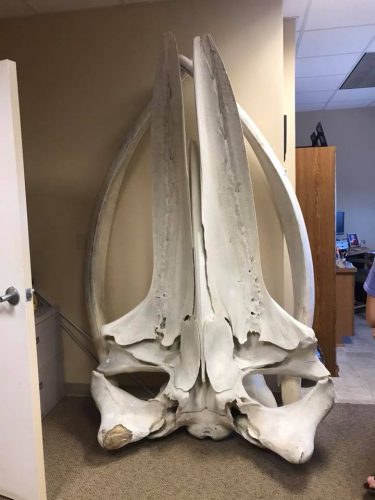 The fall trip organised by the marine honours society was slightly different, but no less enjoyable. The trip highlight had apparently been first suggested by the Marine Mammal Rescue Team last year – snorkelling in Florida's Crystal River, a little town famous for one large marine mammal: Trichechus manatus, the manatee. Crystal River is reportedly the best place in the world to see these creatures, closely related to elephants, as they gather in their hundreds during the winter months to seek refuge in the relatively warm (24°C) waters of the springs.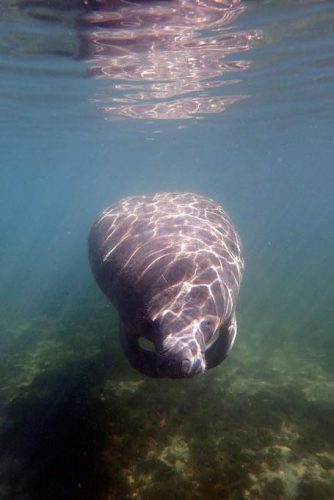 To give you an idea of how many manatees we would be lucky enough to snorkel with, our marine society president got a call from the company that organised such manatee encounters the day before, while we were standing in line at the Disney Epcot Aquarium to be let in. "Really? That's amazing! You will have wetsuits for us, won't you?" he said into the phone. "Awesome! Yes, thank you so much for confirming. They said it's going to be really cold tomorrow," he started off apologetically to the rest of us, as he ended the call. "But because of that, they also said we're going to see more manatees in one day than most people will see in a lifetime!"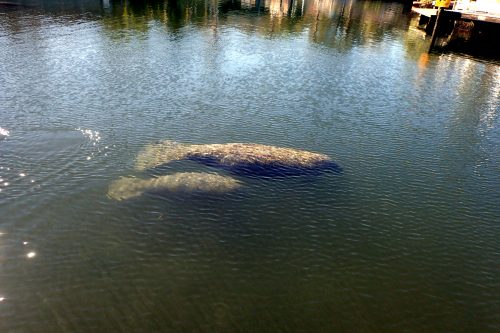 He was right on both counts. The water itself was warmer than the outside air, which was great for us up until we had to get back on the boat to return to shore – I don't think there was a single pair of hands between the twenty of us that could hold completely steady. And yet, none of us had much to complain about – there were times I couldn't move while in the water just because there was nowhere to go that wasn't blocked by manatee. Despite their size, these animals are mostly intestines, bones, and muscle, with very little blubber, so cold weather forces them to stick close to the warm water output of the springs, and makes it easier for us to find them in greater numbers. While it's against the law to go out of your way to chase down a manatee to touch them, if they approach you (leisurely; these guys don't do much in the way of haste) and brush their nose and mouth against you in curiosity, it's fine to reach out a gentle hand and run it along their side.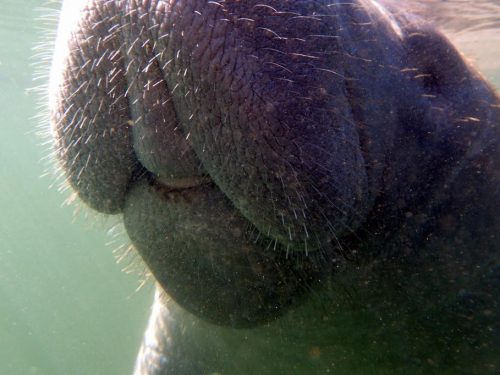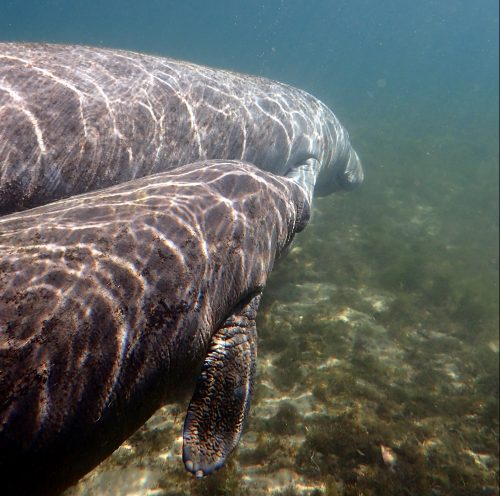 The worst part of these trips was definitely the amount of work waiting for me when we got back; more than once throughout these trips, an upperclassmen would say something along the lines of 'why am I here? I have tests to study for, presentations to prepare, assignments that haven't even been started'. This was the cue for all of us to flashback horribly to the amount of work we too had abandoned in favour of swimming with manatees or seeing dolphins, before collectively going 'it's fine! McDonalds is hiring two streets away!'.
Even so, I don't regret going on these trips one bit, even with exams and presentations falling on the same day right after I get back. After all, I have had more than twelve years' worth of experience going through tests and assignments – how many times am I going find myself with a backstage pass to aquariums of the caliber of Mote Marine Lab and Clearwater Aquarium, a chance to swim in the Disney Epcot Aquarium and meet manatees in their natural habitat over the span of two weekends? Sometimes in life, it's better the bite the bullet and make the risky decision. And what better piece of advice encompasses the point of studying abroad?