---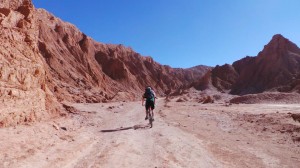 After having spent a month or so settling into my new life in Chile, my friends and I thought it was about time to pack our backpacks and get away from city life in Santiago. Our first opportunity to escape was "Dieciocho" – literally meaning the 18th of September – when the whole country takes the week off to celebrate the independence of Chile.
We decided to head north to the Atacama Desert. You can fly from Santiago which takes around 3 hours. Or you can do as we did and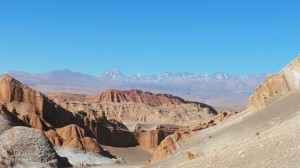 take the 25 hour bus which is quite an experience in itself, and a great way to meet locals. I think my favourite encounter on this trip was the group of miners who started singing and drinking as soon as the bus departed from the terminal.
Once in the village of San Pedro, we soon realised that there was definitely no shortage of tours and expeditions to choose from. My one piece of advice would be to shop around; on last count there were more than 50 tourist agencies that run the same excursions and the price can differ quite significantly. However despite its remote location, it's a real traveller's hub; everyone speaks English and you can get hold of most of your home comforts. We even found a French boulangerie so my Parisian friend was over the moon!
Setting your alarm for 4.00am is never appealing, especially when it's less than 0°C outside. However, the sight of the sun rising over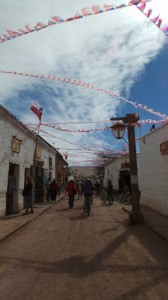 bubbling geysers and ancient mountains definitely makes getting up so early worth it; just don't forget your gloves! Animals
My favourite activity was cycling through the "Valle de La Luna" – Moon Valley – and the ominously named "Valle de la Muerte" – Death Valley. It is not an easy ride; with temperatures reaching 30°C and at an altitude of 4,000 metres in some places, make sure to take a bottle of water and a puncture repair kit (that turned out much more useful than I initially thought!). However, the views are incredible and bizarre at the same time – to give you an idea of the landscape, the Atacama is also a testing site for the NASA-funded Earth-Mars Cave Detection Program.
You can imagine that with all these different trips on offer, our week in the desert passed very quickly and I could have easily spent another couple of days exploring. However, it was time to take the bus back to Santiago, and we had a lot of time to reflect on our stay in the desert.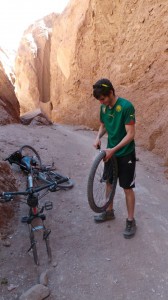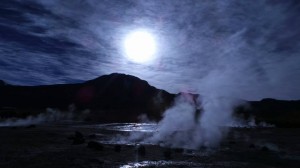 Cycling in the Atacama Desert